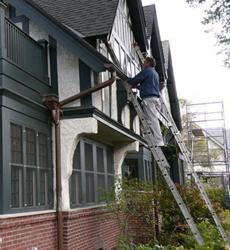 "Many Twin Cities homeowners of homes of distinction, or those who consider their homes as one of life's finest investments, will only entrust their home painting projects to a fully qualified, professional painter." ~ William Nunn Painting
Minneapolis, Minnesota (PRWEB) January 31, 2013
A recent housing study from Harvard University called The U.S. Housing Stock: Ready for Renewal highlights the importance of home upkeep for the future. The study finds that some homeowners have skimped on home improvements, generating government calls to homeowners to protect their homes and our housing stock for future well-being. Painting is one home improvement strategy that is cost effective, produces immediate results, and keeps a home in its own "suit-of-Armour" to protect from weather's elements.
William Nunn, owner of William Nunn Painting, comments: "Painting your home protects your home. Painting both interior and exterior walls, trim and other home surfaces will increase the overall real estate value of a home. This helps in valuation of homeowner assets, and can help with a home's resale."
Over the past decade, both the level and composition of home improvement spending have changed significantly. "Home equity represents a large portion of household wealth for most Americans", according to Harvard's Renewing Homes For Tomorrow's Households report. the Minneapolis housing turnover is associated with higher improvement spending, as investors are buying and fixing up neglected homes.
Key Information from The Harvard Housing Study:

Longer-term homeowners have led the home improvement spending increases in 2012. With a clear turn-around in Minneapolis home prices, homeowners' ability to invest in their homes is on the increase.
The loss of home equity among younger or first-time home buyers served to limit improvement spending among younger households after the housing crash.
After years of decline, the number of owner-occupied homes with severe or moderate damage due to lack of care increased 7% between 2007 and 2011 to more than 2.4 million.
Inadequate homes are significantly more likely to be converted to rental units or nonresidential uses, become vacant, or permanently lost from the housing's inventory.
Owners with less than 20% equity in their homes spent 22% less on average on home improvements and 30% less on discretionary projects than owners with 20% or more equity.
William Nunn Painting Offers 6 Top Reasons Why Painting Protects A Home's Lifespan And Value
1) Painting Protects From Inclement Weather - Painting a home's exterior walls, trim and other home surfaces will help the homeowner protect their home from inclement Minnesota weather, particularly ice and snow. Moisture can enter wall openings and If dampness is sealed into walls, it can ruin insulation and encourage mold and rot.
2) Preparation Before Painting - Proper preparation of the home's surfaces prior to applying the paint may be more important than the fresh coat of paint itself. Scraping off peeling paint, and use top caulking materials and techniques to seal and protect surfaces first. Timely painting repairs keep weather out and protect the life of a home's exterior.
3) Choose Painting Professional Services That Use Low VOC and Zero-VOC Paints - A seasoned painting contractor has gained keen insights to how paints perform over time. A quality exterior paint job that lasts longer goes further to protect a house from wood failure and other expensive repairs. Advances in resin technology are better in some VOC paint products than others, flow and level better, eliminating potential bubbles, and thereby the paint applications last longer.
4) The Right Paint Choice Promotes Healthy Indoor Air Quality - Low VOC waterborne paints emit fewer "volatile organic compounds" into the air as they dry, making them often the favorite choice when considering the overall environmental impact. Purchasing quantities carefully eliminates wasteful leftovers that inevitably need disposing of later. Thinners and solvents used during paint applications should be saved and recycled. Protecting the air and environment is an extension of the same wise stewardship that citizens exercise when protecting homes and commercial buildings through prompt painting maintenance.
5) Painting Reduces Home Dust, Stains, and Greasy Fingerprints - Particularly in homes with plaster walls, Keeping home interior walls, trim and other surfaces painting upkeep on schedule can minimize dust and dirt that comes over time from building up and causing a breakdown in a home's painted surfaces. Better quality paint keeps plaster in check, and dust to a minimum. Older homes and tough interior surfaces need a quality paint product, like Fine Paints Of Europe, that are developed to extend the life of a home.
6) Paint Seals Surfaces From Damaging Humidity and Steam - Painted surfaces in bathrooms and kitchens need to hold up under routine use that includes exposure to humidity and steam. A quality paint job with the proper product (sheen) can last many times longer in a bath or kitchen that sees everyday use.
Minneapolis area residents and businesses may call 612 825-3875 to contact William Nunn Painting to schedule painting services or woodfinishing experts.