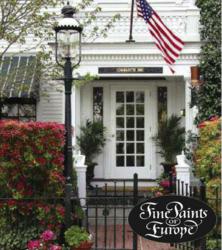 "A colorist, as pertaining to paint, is a person who uses paint color skillfully. My job involves helping Fine Paints of Europe clients with the sometimes-daunting task of choosing from our 10,000 colors to decorate their spaces." ~ Emmett Fiore
Minneapolis, Minnesota (PRWEB) November 07, 2012
Fine Paints of Europe has been providing discerning American homeowners and painting contractors with Real Paint from Holland since 1987. Hosted in the celebrated community of Woodstock, Vermont, this weekend William Nunn Painting will be joining Fine Paints of Europe for training and discussions that will benefit Minneapolis residents seeking a quality paint job.
William Nunn was first introduced to becoming a certified painter for Fine Paints of Europe by a client, who having moved to the Minneapolis area, requested that he use none other for the results she had been so pleased with in her east coast residence.
Bill Nunn, owner of William Nunn Painting, says "The paints are simply the best quality to work with, come in an unlimited range of exceptional colors, including Eve Ashcraft colors. Fine Paints of Europe are now readily available at Excelsior Paint and Design in Excelsior, Minnesota's only retail supplier."
A Paint Job With Fine Paints Of Europe Insures:
1) paint coatings that contain no fillers
2) excellent depth of color
3) dramatically more coverage per ounce of paint
4) a longer lasting, more durable painted surface that lasts two to three times longer than other paints
5) advanced low VOC waterborne coatings
6) finest traditional enamels and varnishes
Usually one of the first things William does after introducing clients to this line of paint is offer a consultation that will help prudent homeowners to select the right color for their home. Both Fine Paints of Europe and William Nunn Painting provide complimentary professional color advice, and maintenance support to clients.
Fine Paints of Europe established the Certified Painter's Program in order to provide American homeowners with a source of carefully screened contractors familiar with the entire range of Fine Paints of Europe paints and primers.
"I am looking forward to learning more about this line of special paints from the people who know them best, and meeting a select group of painters, like myself, who have been invited to participate. Having used them for several years now on both exterior and interior applications, I expect to gather a broader knowledge of the coatings to share with the many Twin City homeowners which I service," comments William Nunn.
For more than 30 years, William Nunn Painting has brought a personal touch to Twin Cities homes and commercial properties, specializing in interior and exterior painting, wallcoverings and woodfinishing. As a well trained painting professional, Nunn has achieved the best results in both paint beauty and durability in some of the most distinguished Minneapolis homes. Contact William Nunn Painting or call 612 825-3875 to schedule a consultation.