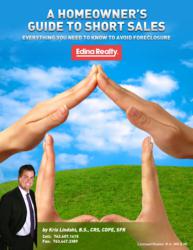 "Now with my new book, the "Homeowners Guide To Short Sales," I have given people the advantage of getting the short sale answers they need, when they need them."
Minneapolis, MN. (PRWEB) September 30, 2012
"We still don't know whether there will be an extension on the 2007 Mortgage Debt Relief Act, which allows for an exemption of collecting taxes on the forgiven amount of debt that naturally occurs during the short sale of a home," Kris Lindahl, a top Minneapolis short sale agent explains. "If there is no extension, some people who are selling their home with a short sale could be liable for tens of thousands of dollars in taxes. Now is the opportune time to investigate the short sale process, to see if it is a viable option."
"I use technology, because it is the easiest way to get information out to the most amount of people, and people are using technology now to find information," Kris Lindahl explains. "Unlike many people that are trying to make money on every aspect of the current real estate situation, I am trying to help people get their short sale questions answered so they can determine if a short sale is the right option for their situation," Kris Lindahl says.
Kris Lindahl, a top Minneapolis Short Sale Agent, participated in the requirements to obtain the Certified Distressed Property Experts (CDPE), and Short Sale & Foreclosure Resources (SFR) designations. Kris Lindahl has been helping Minnesota homeowners for 56 years, and the Kris Lindahl Team is the company's go to resource for clients that need short sale help.
Kris Lindahl, B.S., CRS, CDPE, SFR says, "Now with my new book, the "Homeowners Guide To Short Sales," I have given people the advantage of getting the short sale answers they need, when they need them." "There is no other book of its kind, that is why the book will be such a great help to homeowners," the top Minneapolis Short Sale Agent Kris Lindahl says.
Kris Lindahl and the Kris Lindahl Short Sale Team can help homeowners with their short sale, so call today at 763-607-1415, or visit the MNShortSaleCalculator.com website that Kris Lindahl created to help homeowners determine if their home is eligible for a short sale.
Download a copy of Kris Lindahl's new "Homeowners Guide To Short Sales" book by visiting the website HomeOwnersGuideToShortSales.com, which is full of information on the short sale process.