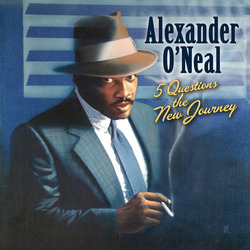 He's certainly the best singer Jimmy Jam and Terry Lewis have ever produced." - John Floyd, Allmusic.com
Minneapolis (PRWEB) July 26, 2010
Alexander O'Neal--the best singer ever produced by Jimmy Jam and Terry Lewis--is back with his first new album in eight years set for release on July 27th. His tough, ballsy voice reminds us of Otis Redding on his new record, 5 Questions-The New Journey.
Since relocating to Great Britain, we hear a smoother and more mature singer on this new album when compared to his prior releases (1986's Hearsay, 1991's All True Man, and 1997's Lovers Again). O'Neal is flawless with both the fresh dance floor burners and the romantic, couch-cuddling numbers that make up 5 Questions-The New Journey.
This new release reclaims his throne as the King of Minneapolis Soul and treats our ears to a well-crafted, top performed collection all new songs. It's the album he was meant to release.
CC Entertainment is a Minneapolis-based record label distributing 5 Questions-The New Journey through E1 Entertainment.
# # #