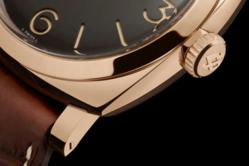 Often times our clients are some of the first people to view these pieces.
Minneapolis, MN (PRWEB) September 13, 2012
Wixon Jewelers, known for their selection of Minneapolis engagement rings, will display prototype models from Panerai's never-before-released watch collection. They will be displayed in their Minneapolis, MN showroom during the Panerai Collectors Event. This unprecedented collection of fine timepieces will be displayed for two days only, on September 13 from 10am-7pm, with a cocktail party from 5pm-7pm, and September 14 from 10am-5pm. Guests will see the future of fine timepieces by exploring more than ten of Panerai's unreleased prototype watches and over 30 of their current models.
Panerai, more formally known as Officine Panerai, is an Italian watch design company known for their bold dials and innovative engineering. While they were founded in 1860, Panerai watches earned the lure of American clients around 1995 when they caught the attention of Sylvester Stallone. These unique watches can be found on the wrists of celebrities such as Jason Staham, Carmello Anthony, Tom Cruise and even former President Bill Clinton.
These timepieces are highly coveted because of the of their beautiful Italian design and Swiss craftsmanship which combine to create a high precision watch that is deeply rooted in history, innovation and technical expertise. They are crafted with the finest materials and engineered to perfection. Wixon Jewelers is the perfect partner for Panerai because of their reputation for carrying the finest selection of jewelry in the Twin Cities metropolitan area.
Panerai's Brand Representative will join the Wixon Jewelers staff at their showroom for the event to display the watches and answer questions about the pieces and the brand. "We're proud to have this collection at Wixon Jewelers," said David Brenke, Watch Department Manager at Wixon Jewelers, "It's exciting when a watch company brings in unreleased watches that many people have never seen." It is a special opportunity for watch connoisseurs in Minnesota. "Often times our clients are some of the first people to view these pieces."
Wixon Jewelers is a family-owned jewelry store located in Minneapolis, MN. They are known for their large collections of engagement rings, fine watches, gemstones and custom jewelry. They are are also known as the leading Minnesota watch repair company with their three on-site watchmakers.