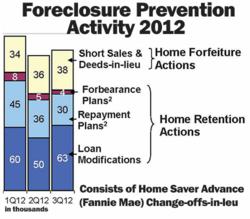 "Principal reduction can be good not only for homeowners and communities, but for investors as well. It can allow people to pay [their bills], stay in their homes and increase the value of value of those mortgages" ~ HUD Secretary Shaun Donovan
Minneapolis, Minnesota (PRWEB) January 05, 2013
The Minnesota Foreclosure Prevention Q3 report states, "There were 4,451 foreclosures in Minnesota in Q3 of 2012, down 10 percent from Q3 of 2011. Although Metro foreclosures (down 12%) saw a greater drop than Greater Minnesota (down 7%), the relative relief was widespread, with the top 10 counties in foreclosure seeing declines, year-over-year". Though declines in Minnesota home foreclosures reflect a statewide trend over 20011 - 2012, the number of foreclosed homes are still historically high, upwards of 300% greater than foreclosure totals in years prior to the housing crisis.
Lenders, who have often resisted erasing mortgage debt, are now forgiving millions of dollars in home loans. The difference indicated in the Foreclosure Prevention Report has come from government incentives, political pressure, and a $25 billion settlement between five major lenders and 49 attorneys general. "Homeowners, feeling 'stuck' unable to sell their house before they can buy a new one, are effectively locked out of the housing market. Five years into the housing recession, they're also more likely to consider the drastic move of walking away from their mortgage, adding to shadow inventory," says Jenna Thuening, owner of Home Destination.
Highlights in the Minnesota Foreclosed Homes Q3 Report show strong and steady progress

Twin Cities foreclosed homes in 2011 Q3 totaled 2,969
Twin Cities foreclosed homes in 2011 Q3 totaled 2,615
Twin Cities foreclosed homes down 11.9%
31 counties reported more foreclosed homes and 58 counties showed fewer foreclosed homes
Encouraging news released January 3 by the Federal Housing Finance Agency (FHFA) that Fannie Mae and Freddie Mac completed more than 134,000 foreclosure prevention actions in the third quarter of 2012.
Top Points In TheFHFA Foreclosure Prevention Report:
1) Year-to-date, Fannie Mae and Freddie Mac have helped homeowners by facilitating approximately 411,000 foreclosure prevention actions.
2) Nearly 38,000 short sales and deeds-in-lieu of foreclosure were completed in Q3 of 2012, up 4 percent over Q2.
3) 45 percent of struggling home borrowers who received loan modifications in the third quarter reduced their monthly payment by over 30 percent.
4) More than one-third of loan modifications completed in the third quarter included principal forbearance. NOTE: see explanation that principal forbearance is not the same as principal reduction.
5) The number of the Enterprises' delinquent borrowers has declined 9 percent since the beginning of 2012.
6) REO inventory continued to decline as property dispositions outpaced property acquisitions during the third quarter. An REO (Real Estate Owned) is a property that goes back to the mortgage company after an unsuccessful foreclosure auction and are generally in poor condition.
To help stabilize the housing market, proponents of principal reduction argue that both homeowners and lenders are better off avoiding those defaults. The recent National Mortgage Settlement between 49 states, several federal agencies and five large banks is hoping to promote the practice by providing those lenders with incentives to cut loan balances, says Thuening. Home Destination sees the following ways foreclosure prevention actions effect homeowners:
Home Forfeiture Actions
1) Short Sales
2) Deeds-In-Lieu of Foreclosure
Home Retention Actions
1) Forbearance Plans
2) Repayment Plans
3) Loan Modifications
Calculated Risk explains what this term 'principal forbearance' actually means. What the FDIC apparently means by 'principal forbearance' is not what most people think they mean by 'principal reduction'. However, with the principal, what the FDIC is doing is not forgiving principal but offering an interest-free forbearance of repayment of part of the principal. This means that the actual principal amount due and payable at maturity of the loan (or sale of the property) is the original unmodified principal amount, less any and all periodic principal payments the borrower makes until maturity or sale.
Short sales and deeds-in-lieu spare the homeowners from the foreclosure process. However, they still must leave their homes and that is traumatic for the homeowner. "The preferred outcome is to keep homeowners in their homes, if possible, with a permanent principal reduction. Housing and Urban Development (HUD) Secretary Shaun Donovan said his agency wants to encourage more principal write-downs to keep people in their homes, even when those loans are backed by Fannie Mae and Freddie Mac," according to a report in The Hill posted on March 4, 2012 titled Dems Raise Pressure on Fannie, Freddie Regulator to Write-down Mortgages. The Foreclosure Prevention Report for 2012 shows the dedicated efforts of Fannie Mae and Freddie Mac to that end.
Twin Cities homeowners may call 612-396-7832 and ask for Home Destination's help to stop foreclosure and enjoy staying in your home.