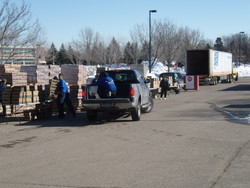 "With 12 boxes of cookies in each case, that's about three quarters of a million boxes," Barrett Vice President and General Manager Bill Johnson explained.
Minneapolis, MN (PRWEB) June 1, 2010
This spring, Barrett Moving & Storage joined forces with the Girl Scouts of America to satisfy Minnesotans' annual craving for Thin Mints, Tagalongs, Do-si-dos and other perennial favorite Girl Scout Cookies.
The Minneapolis moving and storage company partnered with the local Girl Scout council and its designated commercial baker, Little Brownie Bakers of Louisville, Kentucky, to store and distribute more than 60,000 cases of Girl Scout Cookies.
Barrett's role was to retrieve and store the cookies in its temperature-controlled warehouse until the cookies were ready for delivery to approximately 300 Girl Scout leaders at pick-up sites in Eden Prairie, Minnetonka, Waconia and Wayzata, Minnesota.
"The Girl Scouts have been selling cookies since 1917, so they have this down to a science," Johnson said. "We were happy to do our part in this year's cookie delivery." He explained that approximately 70 percent of all cookie sale proceeds go to the local Girl Scout troops to support Girl Scouting in the area.
According to the Girl Scouts of America, Thin Mints remain the most popular variety with 25 percent of all sales. They are followed by Samoas/Caramel deLites (19 percent); Peanut Butter Patties/Tagalongs (13 percent); Peanut Butter Sandwich/Do-si-dos (11 percent) and Shortbread/Trefoils (9 percent).
About Barrett Moving & Storage
Barrett Moving & Storage is a family business that has grown into an international industry leader. Established in 1901, the company has four locations that move hundreds of corporations and thousands of individuals nationally and internationally every year. Barrett became affiliated with United Van Lines in 1976, and has since grown into one of its largest international agencies. The Minnesota moving company offers specialized, customizable services for household moves, high-value shipping and corporate relocations. Please visit our website at http://www.barrettmoving.com for more information.
# # #