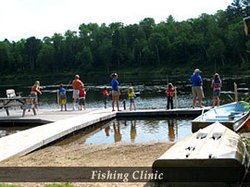 We want to be affordable for families. Times are tough right now, but families still need to take the time to get away from it all and enjoy each other. This special family vacation package is a great way to take that time off and enjoy the Northwoods
Brainerd, Minnesota (PRWEB) August 11, 2009
Still looking for a great family vacation? Have three or four days off? Lost Lake Lodge on Gull Lake is offering a Family Vacation package discount that lets two adults, two children stay for up to four nights for only $999. The package includes the resort's famous breakfast and gourmet dinner, use of the resort's amenities and includes supervised children's activities.
Guests enjoy the resort's quiet atmosphere set among 80 acres of pine-studded forest. The resort is located on the "narrows" of Gull Lake. Lost Lake is a smaller private lake located within the resort's property.
One of the family activities included in the package is a family fishing clinic held twice a week. Led by children's program director, Diane Dwyer, and trophy-catching Minnesota fishing guide, Harry Baker, families and children are taught the basics of catch and release off the docks at the resort.
"We love offering this special package to families," says Pat Lewis. She and her husband, Doug, own and operate Lost Lake Lodge. "Families have so little time together these days, that if we can provide the opportunity for them to have fun together and teach them a new skill to enjoy, we think it's great."
Lost Lake Lodge, a Minnesota Resort, offers guests seasonal, all-inclusive vacations that include two gourmet meals a day, free Kids Kamp, family activities, and a relaxing atmosphere. Nature trails, a sand beach, and the peaceful mood the resort maintains offer families a chance to truly escape from everyday life. One of the smallest all-inclusive resorts in the United States, Lost Lake Lodge provides world-class service with family-friendly tradition.
"We want to be affordable for families. Times are tough right now, but families still need to take the time to get away from it all and enjoy each other. This special family vacation package is a great way to take that time off and enjoy the Northwoods," Lewis says.
The family package runs from August 16 through October 3, 2009. Please visit our MN resort for more details.
# # #