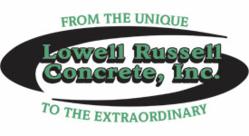 (PRWEB) June 27, 2011
Lowell Russell Concrete, Inc., a concrete company that provides interior and exterior concrete in Minnesota, is defiantly ramping up for the summer construction months despite the overall slump across the construction industry.
Traditionally summer months have been a busy time for outdoor construction projects including exterior concrete services such as installing or refurbishing steps and walkways, patios, pools, and driveways. Over the past three years construction has been down due to the collapse of the residential building market and the overall economic recession. Despite recent improvements in the economic outlook, construction continues to be soft. Lowell Russell Concrete, Inc. is projecting better days ahead and backing up that stance by gearing up for a big summer season.
"With new construction still down, we see our decorative concrete products and services filling a need for enhancing properties at an economic cost." Lowell Russell, founder of Lowell Russell Concrete, Inc. explains. "Because of its versatility, concrete will not only add strength and beauty to any project, it will add value at a fraction of the cost of other materials."
Lowell Russell's website, http://www.staincrete.com, explains how architectural concrete opens the doors to countless possibilities and includes design examples to inspire those looking to utilize concrete in their homes or businesses.
The company has been in the concrete business for more than 35 years and is continually recognized by the Better Business Bureau and Angie's list for their exceptional customer service. By utilizing modern techniques and equipment Lowell Russell offers the highest quality exterior concrete services available, another factor that adds to their optimism toward this building season.
Explaining the benefits of utilizing exterior concrete Lowell Russell said "Architectural concrete, as a low-cost alternative, presents homeowners with significant savings for large areas, such as driveways and patios, as well as steps, walkways and pools. Not only is concrete less expensive, but the decorative designs, borders and colors possible with architectural concrete will enhance your home and add to its value." This is especially important in these summer months when the weather allows for work on exterior concrete, and during difficult economic times when many homeowners find their home values declining.
For additional information on Lowell Russell Concrete, Inc. or exterior concrete services and applications, visit http://www.staincrete.com, email Lowell Russell at info(at)minnesotaconcrete.com, or call 952-461-3710.
###