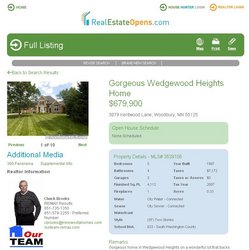 The site is still new, so I believe it is just taking time for people and agents to find out that we're here. We've already seen tremendous growth, our traffic is up over 1500% since early February
Minneapolis St Paul, MN (PRWEB) June 5, 2008
It isn't hard to find a website to browse and search local MN real estate listings. So, why has Jay Budge taken time away from his successful 25 year Realtor career to put up another one?
"I noticed that existing real estate sites are injecting themselves between listing agents and potential home buyers. I wanted to cut out the middle man and provide a place that lets buyers contact the listing agents directly", said Jay Budge.
Presently Minnesota has a system in place called "Broker Reciprocity", with the majority of MN Brokers participating. This allows websites to show listings from agents at any of the participating brokerages. However, the majority of broker websites identify their own listing agents to the public but not the contact information from other broker agents. This is where RealEstateOpens.com distinguishes itself. RealEstateOpens.com identifies agents from any brokerage and allows them the ability to claim their listing by showing their own photo, phone numbers, e-mail, personal or company website, as well as other information. Nice for agents, but why do home buyers care?
"I am currently on the hunt for a new home and do most of my real estate shopping on RealEstateOpens.com. At this point I'm not interested in working with a buying agent, I just want information about the properties I'm interested in. What better way to do this then by contacting the listing agent directly, on one website, and without having to provide any personal information. I wish more Realtors would claim their listings on the site", said one local home buyer and RealEstateOpens.com user.
With generous promotional pricing making it free for agents to post their contact information on most properties, it's difficult to understand why more Realtors haven't claimed their listings. In addition, RealEstateOpens.com integrates directly into the MLS system making claiming listings extremely easy to do.
"The site is still new, so I believe it is just taking time for people and agents to find out that we're here. We've already seen tremendous growth, our traffic is up over 1500% since early February", said Jay Budge.
Given its ease of use and promotional pricing, it's a matter of time before more agents begin taking full advantage of this new marketing channel.
If you would like more information about RealEstateOpens.com or to schedule an interview, please contact Jay Budge at 651-681-0234 or jaybudge@realestateopens.com
SAMPLE of a claimed listing: Example Claimed Listing Development: Example Claimed Development
Learn more: http://www.realestateopens.com/learn_more.aspx
Additionally what you get: http://www.realestateopens.com/whatyouget.aspx
###