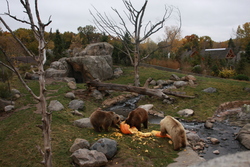 Pumpkins are just one example of 'enrichment' used at the Minnesota Zoo to stimulate animals' senses while encouraging a wide range of natural behaviors
Apple Valley, MN (PRWEB) October 23, 2009
The Minnesota Zoo's grizzly bears took less than ten minutes to destroy a 500-pound pumpkin inside their exhibit as part of an early Halloween treat.
Bears "Haines" and "Kenai" took an extra special interest in the pumpkin, clawing and ripping it apart while "Sadie" - content to let the boys do the hard work - showed up at the messy grand finale.
"Pumpkins are just one example of 'enrichment' used at the Minnesota Zoo to stimulate animals' senses while encouraging a wide range of natural behaviors," said the Zoo's Northern Trail Supervisor Diana Weinhardt.
In the past, pumpkins presented to the bears were substantially smaller - allowing them to claw and smash them as their own unique way of "carving".
The large pumpkin, grown at the Zoo's Wells Fargo Family Farm exhibit by Zoo Volunteer Bob Erickson for the past 5 months, was transported ahead of time via a bobcat to the bears' exhibit inside Russia's Grizzly Coast. A pumpkin's weight is estimated by its measurements.
The Minnesota Zoo is located in Apple Valley, just minutes south of Mall of America. For more information, call 952.431.9500 or visit mnzoo.org. The Minnesota Zoo is an accredited member of the Association of Zoos and Aquariums (AZA) and an institutional member of the World Association of Zoos and Aquariums (WAZA).
###