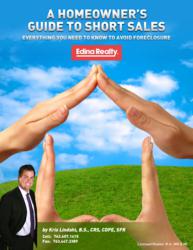 "I created websites that have short sale calculators, so people in Minnesota and Wisconsin can figure their short sale eligibility on their own," Kris Lindahl says.
Minnetrista, MN. (PRWEB) October 02, 2012
Kris Lindahl, the top Minnetrista Short Sale Agent, has been creating and releasing a Short Sale Video series about how the different banks handle the short sale process. There are 10 videos that Kris Lindahl has released in the Short Sale Video series so far.
Kris Lindahl understands that the world has changed, and the old ways of reaching people with information are not as effective as using the technology that is available. "Because people are using technology to find the information they are looking for, I have spent months creating websites, eBooks, and videos so it would be easy for people to get the short sale information they need to see if the short sale process is a viable option," Kris Lindahl explains.
"There are people from all over the world looking for properties to invest in, so when people list their homes with me they can feel assured foreign investors have a greater chance of finding their property, because I list them on my websites that rank at the top of Google," Kris Lindahl says. "In the past, foreign investors would have a more difficult time finding properties to invest in, that were in different parts of the world," Kris Lindahl explains.
The 10 videos that Kris Lindahl has released so far include the following:
Bank of America Short Sale Process
Chase Short Sale Process
Wells Fargo Short Sale Process
Fannie Mae Short Sale Process
Freddie Mac Short Sale Video
HAFA Short Sale Process
2007 Mortgage Debt Relief Act
Tips for Selecting a Short Sale Agent
Kris Lindahl Specializes in Bringing Real Estate and Technology Together
Kris Lindahl Gets Short Sale Loans Approved in Record Time
"I also wrote an eBook to help people with the short sale process, the "Homeowners Guide To Short Sales" which can be downloaded at the HomeOwnersGuideToShortSales.com website," Kris Lindahl explains. "I created websites that have short sale calculators, so people in Minnesota and Wisconsin can figure their short sale eligibility on their own," Kris Lindahl says, and adds, "Which can be found at MNShortSaleCalculator.com and Wisconsin residents can check their eligibility at the WisconsinShortSaleCalculator.com website."