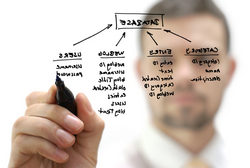 We are very pleased about what this certification means to our company, as well as to the companies we serve and with whom we partner. We are proud to offer our services as a minority owned business
South Plainfield, NJ (PRWEB) February 25, 2008
eTeam Inc., the information management and professional services experts, has been awarded certification as a Minority Business Enterprise (MBE) by the regional certifying partner of the national Minority Supplier Development Council (NMSDC). The Company has also secured 8(a) certification by the U.S. Small Business Administration.
This important recognition as a minority owned business was secured following a rigorous application and certification process by regional and national agencies. In addition to facilitated access to government business, MBE and 8(a) status positions eTeam to assist its corporate clients beyond high quality information management solutions and professional services. Clients can now leverage the added benefit of meeting vendor diversification requirements while working with an established firm they know and trust.
Benefits for eTeam, Its Clients and Partners
These certifications provide opportunities and Small Business Administration assistance to companies in areas including procurement, marketing, finance and management. Certified firms are eligible to participate in procurements that have been set-aside for this group by government agencies and corporations doing business with the government. An 8(a) firm is a contractor that is pre-approved with the Federal government and can start work immediately upon execution of a contract, without undergoing time consuming bidding, qualification and approval processes.
"We are very pleased about what this certification means to our company, as well as to the companies we serve and with whom we partner. We are proud to offer our services as a minority owned business," said Ben Thakur, eTeam's CEO. "Our certification positions us well for continued growth through new business opportunities and is helpful to clients striving to meet their goals for vendor diversification. Our partners can also benefit by way of joint ventures."
About eTeam Inc.
eTeam is the premiere single source for end-to-end expertise in professional services and information management solutions. From strategic management to behind-the-scenes brain power, eTeam's best-practice approach creates outstanding data solutions and rapid time to value for clients in multiple industries, including Financial Services and Life Sciences. The company is a certified minority business enterprise and federally certified SDB. Headquartered in New Jersey, eTeam also has offices in Toronto, Mumbai and Bangalore. Further information is available by visiting http://www.eteaminc.com.
EDITORS' NOTE: Copies of this news release can be obtained by faxing your request to 508-359-2277 or calling 508-359-9800.
(c) 2008 eTeam Inc. All rights reserved. eTeam is a trademark of eTeam Inc. All other trademarks are the property of their respective owners.
###