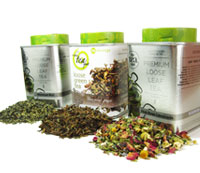 Boulder, CO (PRWEB) August 16, 2012
The Tea Spot introduces Moroccan Mint, a premium naturally-sweet mint green tea blend. Moroccan Mint is a handcrafted loose leaf green tea, conceived to be refreshing in flavor while energizing with a natural component of caffeine from green tea. It combines fragrant spearmint leaves and tightly rolled gunpowder green tea in precise proportions to yield a heady cup with a lingering sweet mint flavor. The Tea Spot's Moroccan Mint is versatile--great when prepared hot, cold-brewed, or served on the rocks. With no sugars, syrups, or artificial flavorings, The Tea Spot's new mint green tea provides a calorie-free alternative for lovers of naturally sweet teas.
The green tea component of their Moroccan Mint is gunpowder tea--processed using a traditional tea processing method. Fresh green tea leaves are withered, pan-fired, rolled, and then dried. Rolling the leaves allows them to retain more of their flavor and aroma, and the tinier the pellet the younger the tea leaves. Their spearmint is a lighter sweeter mint option than its well known relative, peppermint. The two ingredients are microblended in small batches in Boulder, Colorado, at The Tea Spot to create a balanced cup of green tea with a wintergreen aroma and no bitter aftertaste.
The Tea Spot's Moroccan Mint tea is available in bulk, as well as in recyclable tins containing 4 ounces of loose leaf tea, each yielding 56 8-oz servings. The tin has a suggested retail price of $10, equating to less than $0.20 per 8-oz cup. The per serving price drops to $0.12 per cup when purchasing in larger bulk quantities, ie. 1 LB bulk bags. All options are available through the tea company's online tea store at TheTeaSpot.com
Moroccan Mint is featured in a new tea collection from The Tea Spot, Cool Mint Trio, also debuting this week. This mint tea set also includes Thin Mint Green, a roasted green tea with peppermint leaves; and Pink Rose Lemonade, a delicately handcrafted fruity and floral mélange that tastes like lemonade, laced with rose and rounded out with wintergreen and a hint of herbaceous lavender.
The Tea Spot's Cool Mint Trio loose leaf tea collection has a suggested retail price of $27.20, which represents a 15 percent savings off the price of all three teas purchased separately. It is also available through the company's online tea store.
All three mint teas make refreshing drink options that are recommended year-round – enjoyed both hot and cold. Native to the Mediterranean region, mint leaves were often used to crown luminaries in ancient Greece and Rome. Mint continues to be revered for its refreshingly light aroma and clean taste. The Tea Spot's Cool Mint Trio of premium loose leaf teas are chosen for their naturally sweet and brisk flavors, and because they all lend themselves to both hot and cold brewing.
Cold brew tea is made easy with The Tea Spot's latest Steepware® product "Steep & Go"–which turns bottled water into fresh iced tea. This reverse infuser pairs with disposable water bottles and loose leaf tea to make cold brewing easy while on-the-go.
The Tea Spot is a for-profit philanthropic business producing handcrafted loose leaf teas and Steepware® – the tools that make loose tea easy. The Boulder, Colorado-based woman owned and operated company was founded by Maria Uspenski in 2004. A cancer survivor drawn to the health benefits of leaf tea during her recovery, she set forth to modernize the loose-leaf tea experience. Her message is simple and powerful: tea in its freshest form renders incredible flavor, unmatched health benefits, and is eco-friendly. The Tea Spot is a Certified B Corporation and ensures that its products uphold clean, sustainable and fair manufacturing standards. The company's model of social entrepreneurship incorporates a culture of giving as it grows: ten percent of every sale made is donated in-kind to cancer and community wellness programs.