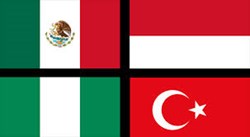 (PRWEB UK) 5 February 2014
Millions of cars are being built in the four 'MINT' countries singled out to watch for global growth,
Mexico, Indonesia, Nigeria and Turkey all have car manufacturing capacity and are set to rank globally in terms of production.
Mexico produces the most cars. American companies such as Ford and GM, seeking a nearby country with lower costs, have led the field. They have been joined by a number of Japanese car makers seeking a bridgehead into growing markets like Brazil where favorable trade agreements exist.
Toyota, Daihatsu, Honda, Nissan, Suzuki, Isuzu and Mitsubishi have announced plans to invest more than $2bn between them in new manufacturing capacity to meet surging domestic demand in Indonesia and for export according to the Financial Times. Another reason for this move may be the strategic distance this gives from China where relations with Japan have been strained recently.
By far the smallest MINT nation in car terms is Nigeria which has seen slow investment by foreign companies. The INNOSON Vehicle Manufacturing Company is home grown with big ambitions. In Nigeria's favour is growing affluence and a large, younger, economically active indigenous population.
Turkey reportedly manufactured over 1 million cars in 2012 with 75% being exported bringing Turkey over $20 billion in export earnings. As with Mexico, the car industry in Turkey is dominated by international car companies, some of which are jointly owned by Turkish concerns.
In their work for the Oxford Journal, Hallak and Schott analysed counties by production quality and found Mexico, Turkey and Indonesia ranked in the bottom 40%. Nigeria wasn't included. It is likely that global car companies will insist on quality production but this is not guaranteed.
A spokesman for WeLoveAnyCar.com, the UK's biggest car review site said, "Our survey of over 430,000 motorists lists reliability as a key concern. As new models flood in from emerging economies, including the MINT countries, it is essential that quality remains a focus of ambitious production plant managers and car manufacturers alike. Car buyers expect 'mint condition' cars whether they are from MINT countries or not."