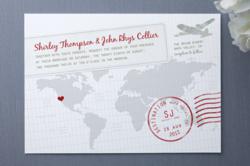 Minted is pleased to announce that it now offers shipping to over 50 countries.
San Francisco, CA (PRWEB) June 21, 2011
June 21, 2011 – Minted (http://www.minted.com), an online stationery store that specializes in customizable and unique designs for wedding invitations, personal stationery, and holiday cards, is pleased to announce that it now offers shipping to over 50 countries, including Canada, Mexico, Australia and the United Kingdom.
The launch of international shipping is in response to requests from customers around the world. With the new service, shipping time to countries outside of the United States will take six to ten business days with priority international shipping. Express international shipping will take three to five business days.
The pricing for shipping outside of the United States is as follows:
Priority International: Canada - $25.00
Priority International: Other Countries - $40.00
Express International: Canada - $40.00
Express International: Other Countries - $50.00
Minted now ships to the following locations: Argentina, Australia, Austria, Belgium, Brazil, Bulgaria, Canada, Chile, China, Colombia, Cyprus, Czech Republic, Denmark, Estonia, Finland, France, Germany, Great Britain and Northern Ireland, Greece, Greenland, Grenada, Hong Kong, Hungary, Iceland, India, Indonesia, Ireland, Italy, Jamaica, Japan, Korea (Republic of, South Korea), Latvia, Lithuania, Luxembourg, Malta, Mexico, Netherlands, Netherlands Antilles, New Zealand, Norway, Philippines, Poland, Portugal, Romania, Singapore, Slovak Republic (Slovakia), Slovenia, South Africa, Spain, Sweden, Switzerland, Taiwan, Thailand, Turkey and Venezuela.
About Minted's Design Challenges:
Minted's mission is to allow consumers to discover design genius from all over the world, providing an opportunity for designers to build their careers on merit alone. Minted holds monthly design challenges to source designs from a large global community of designers. The Minted community selects the best designs in a highly competitive and meritocratic process, yielding a top selection of the freshest, finest cards in the world.
About Minted:
Minted is a venture-backed design community and online store, crowd-sourcing graphic designs and content from a global design community and selling those as premium printed paper products initially focused on the $10 billion stationery, invitations, and cards market.
Minted has radically transformed what consumers now expect in holiday cards, wedding invitations, save the dates, birth announcements, baby shower invitations, business cards, and other personal stationery. The company's paper and printing is of the highest quality and it leads the market with the freshest designs, newest formats and most coveted details. Minted's fresh, unique designs have been featured on The Today Show, The Early Show, in Real Simple, Town & Country, InStyle Weddings, Food & Wine and other major national magazines.
###