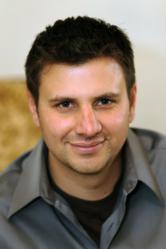 Justin's leadership has enabled a game-changing, award winning product line at MIOX.
Albuquerque, NM (Vocus/PRWEB) April 14, 2011
MIOX Corporation, a leader in safe water disinfection, announces the promotion of Justin Sanchez to chief technical officer (CTO) from his previous role of vice president, engineering and product development. As CTO, Sanchez is responsible for the company's engineering, product development, and research and development activities. He has been integral to developing and launching three groundbreaking new products including the Vault™, a revolutionary self-cleaning on-site water disinfection system that is safely treating water in municipal, industrial and commercial markets.
"Justin's leadership has enabled a game-changing, award winning product line at MIOX. He and his team have responded to customer and market feedback for systems that are reliable, cost effective and simple to maintain. Moreover, he continues to push the boundaries on what is possible with on-site-generation technology," commented, Carlos Perea, MIOX chief executive officer. "The role of CTO more accurately reflects Justin's position in the company. He and his team will continue to develop innovative new and improved technologies that address the need for high-quality water in a spectrum of applications and markets."
Prior to joining MIOX in 2006, Sanchez held leadership positions in two early stage companies and was at Intel for approximately seven years in both engineering and manufacturing positions. Sanchez has a B.S. and an M.S. from Massachusetts Institute of Technology (MIT) and an MBA from the Sloan School of Management.
MIOX's clean technologies treat water using only salt, water and power to generate a powerful but benign disinfectant on site. Creating disinfectant on site is safe, cost effective and environmentally responsible, cutting back transportation requirements, reducing carbon emissions and fuel consumption, and eliminating the storage and disposal of chemical containers.
About MIOX Corporation
MIOX Corporation (http://www.miox.com) is focused on solving one of the world's most pressing issues: the need for affordable, safe, and healthy water. MIOX's patented water disinfection technology replaces the need to purchase, transport and store dangerous chemicals. MIOX is used in over 30 countries and in hundreds of communities across the U.S. for public drinking water systems, water reuse projects, and a variety of commercial and industrial applications.
###