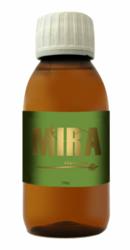 Mira hair oil is the safest, most potently effective blend of all natural, organic herbs known to

"Grow Stunning, Longer, Thicker, Silkier, Bouncier, Voluminous And More Manageable Hair.
Toronta, Canada (PRWEB) July 18, 2011
With their newest formula, Mira Herbal is releasing Mira Hair Oil, a product that can do wonders for anyone's hair. The all-natural product is guaranteed to improve hair in as little as two weeks. It can turn damaged, lifeless hair into a thicker, silkier version of its former self.
Mira's hair product is designed to revitalize, restore and increase the growth rate of hair. Normal hair grows at an approximate rate of half of an inch per month. Hair treated with natural and organic Mira Hair Oil can grow at rates six times as fast, nearly three inches per month! This increase in hair growth gives users the ability to try new hairstyles more frequently without the fear of destroying one's hair or self-confidence. The product also helps to recover hair at a much faster pace.
It doesn't only restore hair health and increase hair growth; this hair oil can also eliminate fizziness, giving hair a sleek, smooth shine. This improvement provided by Mira Hair Oil can allow users to completely forget what a bad hair day is like. Many users have praised Mira Hair Oil for its impressive qualities. A quick search online will provide several video testimonials in favor of Mira's fine product.
Easier, more manageable hair is what many women have been clamoring for. A product like this gives its users just that. The amount of time saved on a daily level by styling easier-to-deal-with hair should give enough reason to purchase the product alone. A better head of hair can make a person look younger and feel more attractive. With all of the benefits that can be drawn from the use of Mira Hair Oil, there should be nothing stopping people from purchasing it.
One of the best parts about Mira Hair Oil is that it is all-natural. The finely refined formula is all herbal; not a drop of the oil is chemically-based. Using only a small dab, many users of Mira Hair Oil have found themselves raving about the product to their friends and family, some even to strangers.
The product works so well that it is guaranteed for 60 days. That's two whole months! The president of the company has promised that the product will work within 15 days of the first application. Researchers with the company have found that it is capable of working in just a few days and all of the product's benefits will be seen within two weeks.
The toxic chemicals which have built up on the scalps of many mainstream hair care product users is extremely unhealthy. Any hair that has been damaged by chemically-based products can be restored through the use of all-natural Mira Hair Oil. This oil has the capability of bringing those scalps, saturated with dangerous chemicals, back to healthy, natural levels.
Possibly the single best part of Mira's special hair oil is that it works on any type of hair. Short, long, thinning, full, straight, curly, dry, moisturized; using Mira Hair Oil will improve anyone's hair quality. The improvement in quality will likely give any woman a huge boost of self-confidence.
Some women use the product to make their hair sleeker or use it to make hair grow faster. Yet others use it to prevent hair loss and thinning. Mira Hair Oil is so versatile and practical that it makes one wonder why the product is not in the hair product arsenal of every woman in the country. Mira Hair Oil is giving hope to women with uncontrollable, unmanageable hair. Mira's 60-day money back guarantee makes it easy to purchase Mira Hair Oil without guilt. Their confidence in their product speaks for itself; Mira Hair Oil must truly be a miracle worker.
About Mira:
Mira is a company looking to assist women with their daily hair troubles. Looking to restore confidence to women who have lost it, their products are all natural and are designed to assist women with hair issues that arise in nearly every woman's life. To learn more, visit Mira Hair Oil website at http://makemyhairgrowfaster.org/mira-hair-oil
###