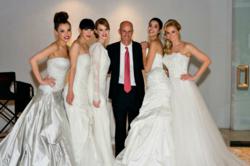 Mirabella Beauty is proud to announce the launch of their bridal collection-- Mirabella Bride
Valencia, CA (PRWEB) August 30, 2012
Each year, two million women get married in the US. According to a survey by David's Bridal in April of this year, 60% of those brides do their own hair and bridal makeup for the big day.
Leading professional color cosmetics brand, Mirabella Beauty, known for their contemporary mineral based formulas with clean, quality formulas and beautiful, sophisticated packaging, is proud to announce the launch of their bridal collection—Mirabella Bride. Five chic personalized makeup sets contain everything needed to create and compliment the looks most often requested by brides: Daydreamer, Sentimental, The Sophisticate, City Chic, and Brazen. With the help of Mirabella Bride, woman can now feel confident applying their own makeup, eliminating the guesswork from the equation. Simply identify your Mirabella Bride personality and follow the easy to use instructions to create a timeless look, or visit a certified Mirabella Bride Consultation Salon and let the educated pros take care of the rest!
City Chic—Seeking a clean, polished look? This minimalist bride is careful in what she chooses to accentuate, opting instead for a cool elegance. She likes clean lines and trends to prefer sophisticated dresses. Her makeup is neutral, balanced and compliments her style without detracting from it. She is fresh, effortless and elegant.
The Sophisticate—It's all about the glitz and glamour of the big day. This bride wants all eyes on her and wants to appear alluring and sexy. Her hair is perfectly coiffed and there must be an element of bling! Smoky eyes and glowing skin will turn heads as she glides down the aisle dressed to kill.
Daydreamer—For the bride that envisions a feminine, romantic wedding look, warm, golden colors in soft rose gold and bronze enhance a natural beauty. The dress may be flowing organza or lace, but the look is unmistakably romantic.
Sentimental—As a "modern vintage" bride, she may desire a wedding that is reminiscent of the past, yet done in an update way. Perhaps she has been inspired by Art Deco, Old Hollywood or retro styles that recall another era. Classic red lips, liquid eyeliner and a well-structured face help to perfect the look!
Brazen—For the bride who wants to truly stand out and make a statement. She is non-traditional and chooses a look that is current and on trend. Her dress may be avant-garde and her color palette is rich with pops of color. She seeks a look with high impact and a unique flair—something that will show off her individuality.
Mirabella Bride is available for $150 at http://www.mirabellabride.com.
For Mirabella Bride services, please consult http://www.mirabellabride.com for the nearest consultation salon.
Mirabella Beauty is the leading line of mineral color cosmetics for beauty professionals. With all this salon heritage, it was natural that Mirabella became the Bridal Makeup experts as well. Jasmine Dashtizad, celebrity makeup artist is Mirabella's National Trainer. John Maly is President of Mirabella Beauty. All the products are paraben-free, talc-free, and gluten-free. Available at http://www.mirabellabeauty.com and fine salons everywhere. See the making of Mirabella Bride at YouTube.