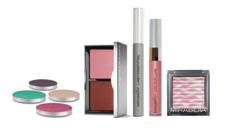 Creative Director Amber Bowen says "For the perfect evening look, make sure you are accenting your makeup with colors from your outfit."
Valencia, CA (PRWEB) May 31, 2013
Mirabella Beauty, leading line of mineral makeup to beauty professionals, launches a video on how to transform a woman's look for that evening dinner meeting. Amber Bowen, the paraben-free, gluten-free product line's Creative Director is the model and makeup artist.
Amber explains her outfit which includes a floral jacket with a dressier black jeans. She shows how to create a smokier eye, but also bringing out the colors in the floral print of her jacket.
She starts by applying paraben-free Darling Eye Colour, which is a matte beige to her entire eyelid as a neutral base. This shade is completely matte and is one of the company's most natural formulas. It masks any discoloration on the eyelid.
Next Amber uses one of her favorite shades, Pretty Edgy, with the Eye Blender brush to brighten the crease area. She always use several layers of this to get a nice saturated but blended application.
To make the look more dramatic for an evening out, she uses Seduce Eye Colour to define the outer corner of her eye. She is very specific with the placement of Seduce in the crease. It is important to not overdue it. A woman should be able to see Pretty Edgy all around it.
Seduce is a great color to line the eyes. It is dark enough to be dramatic but not completely black. Using the Detail brush, Amber lines both top and bottom lash lines.
Then Amber blends in Seduce slightly by adding another layer of Pretty Edgy with the Eye Blender brush.
The most important element of this look comes when Amber adds Haute Eye Colour to the mix. She layers it directly over Seduce to add that interesting and maybe unexpected pop of color to the outer edge of the eye. By layering Haute over a darker base, it makes it twice as bright. Use several layers to intensify this color.
The next step is very important. Amber uses Lash Definition primer every day on her bottom lashes. It thickens the lashes and makes them stand out away from the skin. Since Haute is the focus of this look, it would be sad to just cover it with mascara accidentally. By using the primer first, it becomes easier to apply mascara to the bottom lashes without a mess.
To finish the eyes, Amber coats her lashes with Lash Essential mascara making sure it is darkest at the lash line. For the best application, work from both the top and bottom of the lash to really sculpt a nice arc.
For blush, Amber wants to keep the cool edge to match her eyes, so she applies Pretty Edgy to the cheeks lightly on the high points of my cheeks.
The next step shows Amber blending that Shimmer Rose Brilliant (A highlighter from Mirabella).
And finally, by adding the lightest shade of Blissful Blush Colour Duo, Amber will get a nice cool brightness to the cheeks.
For the lips, she uses Colour Luxe in Wink. This is her favorite shade. The lip gloss has interesting elements of blue pearl that really sparkles and stays on the lips. The paddle makes for an easy application throughout the night.
At the end of the video, Amber is ready for her dinner meeting. The look is professional but dramatic for whatever the night may bring.
About Mirabella Beauty
Mirabella Beauty is the leading line of cosmetics used by salon and spa professionals, offering high-quality, mineral-based prestige cosmetics that are talc-free makeup and paraben-free makeup. With over 200 contemporary products for face, eyes and lips, as well as professional tools, Mirabella offers makeup with personality, providing a wide range of innovative products featuring quality formulas to make consumers both look and feel beautiful. Mirabella takes the guesswork out of makeup with the Fitzpatrick Skin Type Test to determine the right tonal match for any skin tone. For more information, please visit http://www.mirabellabeauty.com. Follow Mirabella on Twitter and become a Facebook fan! Check out the Pinterest boards by mirabellabeauty.