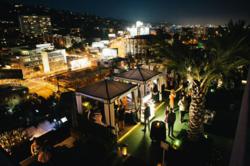 "Mirabella is the makeup line for all of life's special moments, big and small" said Maly.
Valencia, CA (PRWEB) September 12, 2012
Mirabella Beauty, the leading bridal makeup brand, held a fun-filled bash on top of the London Hotel in West Hollywood to premiere their new short film, Holiday Escape. Beauty industry press and other attendees were taken on a vacation getaway inspired by Roman Holiday. According to Mirabella President John Maly, the film showcases Mirabella as a makeup line for life.
"Mirabella is the makeup line for all of life's special moments, big and small," said Maly. "For all ages, occasions and skin types, from girl's night out to first date to wedding day."
Director Darren Thomas accomplished his goal of creating a snapshot of experiences, a heartfelt story that highlights the makeup without feeling like a commercial.
With a unique take on closing credits, Mirabella highlights the makeup applications from key scenes and the products used to create them. To accompany the film, Mirabella has begun to release How-To videos with celebrity makeup artist Jasmine Dashitizad demonstrating application tips and artistry techniques. The videos feature the following products:
SUN-KISSED GLOW – Bronzed Mineral Bronzer and Brilliant Mineral Highlighting Powder with Prismatech shimmer.
MELT-PROOF MAKEUP – Prime for Face and Eyes and Pure Press pressed mineral powder foundation.
MADE YOU BLUSH – Get rosy cheeks with Blush Colour Duos.
SMOKY EYES – Dramatic classic smoky eye look with mineral Eye Colour shadows.
Holiday Escape and the soon to be released accompanying how-to videos showcase high-energy aspirational fun and introduce the Mirabella brand.
Before viewing the film, attendees experienced the entire Mirabella line under the stars by the rooftop pool. Makeup artists were on-hand to apply products based on the latest beauty trends. Guests were able to sample their favorite Mirabella products directly from the brand-new open sell display.
___________________________
Mirabella Beauty is the leading line of mineral cosmetics to the beauty professional. The brand has exciting products like Pure Press mineral foundation, Skin Tint Creme foundation, and Magic Marker Eyeliner as top products and the Signature Brush Collection and Colour Luxe lip gloss as 2012 new launches. Available at http://www.mirabellabeauty.com and at 1,500 of the finest salons in the US and Canada.