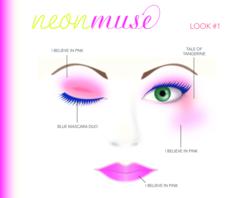 Creative Director Amber Bowen says "These shades are all about contrast! However, the rest of your makeup, hair and even clothing should be more romantic."
Valencia, CA (PRWEB) April 29, 2013
Mineral makeup brand Mirabella Beauty announces the launch of new Neon Muse face pigments and mascara for spring! Featuring three new products available in May, the paraben-free, gluten-free brand's Neon Muse line is designed to make runway-ready looks wearer-friendly, taking the neon trend and giving it a more romantic feel.
The mineral foundation brand's Neon Muse Face Pigments are available in two shades, I Believe in Pink and Tale of Tangerine. The innovative loose powder formula contains conditioning ingredients to soften skin. Both highly-pigmented hues can be used all over the face, with either a wet application for bright color with a sharper finish, or a dry application for a more pearlescent look.
Neon Muse Mascara features a double wand, with electric green and blue shades on each end. These vibrant, shiny hues can be worn alone or layered over a classic black base for a touch of pigment. The formula allows for easy layering, with fade-resistant color. Film-forming agents help to set lashes without drying or stiffness, while humectants provide moisture.
"Neon has been seen all over the runway, but in its current incarnation, the color can often look garish," explains Amber Bowen, Mirabella Creative Director. "The Neon Muse products incorporate neon pigments but are designed for a more ethereal, softer overall look.
"The pink and tangerine face pigments should be offset by the green or blue mascara," adds Bowen. "These shades are all about contrast! However, the rest of your makeup, hair and even clothing should be more romantic. With a long-lasting color formula, no touch-ups are needed. To really play up the trend, try the whole collection! Or, keep it simple and freshen up your look by adding a single neon element."
About Mirabella Beauty
Mirabella Beauty is the leading line of cosmetics used by salon and spa professionals, offering high-quality, mineral-based prestige cosmetics that are talc-free makeup and paraben-free makeup. With over 200 contemporary products for face, eyes and lips, as well as professional tools, Mirabella offers makeup with personality, providing a wide range of innovative products featuring quality formulas to make consumers both look and feel beautiful. Mirabella takes the guesswork out of makeup with the Fitzpatrick Skin Type Test to determine the right tonal match for any skin tone. For more information, please visit http://www.mirabellabeauty.com. Follow Mirabella on Twitter and become a Facebook fan! Check out the Pinterest boards by mirabellabeauty.