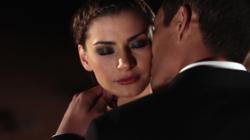 Amber Bowen, Creative Director for Mirabella Beauty says, "The formulas are 99.5% natural or naturally derived ingredients."
Valencia, CA (PRWEB) December 20, 2012
Celebrity makeup artist Jasmine Dashtizad, National Trainer for mineral makeup brand Mirabella Beauty, demonstrates simple artistry techniques that will get your eyes noticed! Using paraben-free, talc-free, gluten-free Eye Colour, Jasmine creates flawless, long-lasting looks with rich, smooth and subtle color.
Watch the video and discover how you can create a beautiful sultry smokey eye with a twist of color with Mirabella Beauty. Eye Colour can be used wet or dry, depending on the desired effect. Use only one part of the shadow pan if you are going to use it with a wet application. To apply more color to the lid, a "stippling" method should be used with a Mirabella Flat Eyeshadow brush.
According to Amber Bowen, Mirabella Beauty Creative Director, Eye Colour formula consists of 99.5% natural or naturally derived ingredients. Antioxidants and emollients provide moisture that aid in regenerating and offering toning qualities for dry, damaged skin.
Available in 40 beautiful matte, shimmer and sheen shades. Eye Colour retails for $10 per pan. The pans fit in a magnetized Pick 4 pallet that retails for $17, allowing customers to create a custom palette to fit their needs. All the products are available at http://www.mirabellabeauty.com or find a retailer near you with the salon locator.
About Mirabella Beauty:
Mirabella Beauty is the leading line of cosmetics used by salon and spa professionals, offering high-quality, mineral-based prestige cosmetics that are talc-free and paraben-free. With over 200 contemporary products for face, eyes and lips, as well as professional tools, Mirabella is best known for its wide range of shades with modern colors, quality formulas, the use of innovative technology, and a strong emphasis on education. Mirabella takes the guesswork out of makeup with the Fitzpatrick Skin Type Test to determine the right tonal match for any skin tone.
About Jasmine Dashtizad:
Jasmine's career in makeup took an unconventional path. She became enamored with it as a child as she would sit entranced watching her mother do her own makeup. It was the power that makeup possessed to enhance a woman's strength and femininity that ultimately influenced her decision to become a makeup artist in college. With no formal training, but fueled by an intuitive knowledge of light, color, and balance, she began working with cosmetics and beauty manufacturers to create their advertising imagery. Her work encompasses a wide variety of assignments; print, fashion shows, and music videos. As the National Trainer for Mirabella Beauty, she has assisted the company, developing seasonal collections and new product innovation.