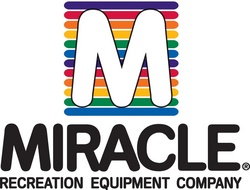 The Grants for America's Schools Program is an exciting, new grant program only offered by Miracle
MONETT, Mo. (PRWEB) May 16, 2008
In continuation of Miracle's focus on child development through free and healthy play, the Miracle's Grants for America's Schools Program will help fund the construction of over 1200 playgrounds throughout the United States benefiting over 60,000 children.
Free play, which children experience through playing on playgrounds, is a critical factor to children's growth. "Children develop cognitive reasoning skills as they use the playground climbing, balancing, and sliding activities. Children also develop social skills and learn to resolve conflicts through interaction with other children," said Mike Sutton, Director of Miracle Sales. "While they think they're playing, we also know they're becoming more physically active. And more physical activity means healthier children and healthier habits."
"The Grants for America's Schools Program is an exciting, new grant program only offered by Miracle," said Dan Guthrie, President of Miracle Recreation Equipment Company. "Miracle has been building unique commercial play and recreation systems for our nation's schools since 1927 so we understand the needs of children and the benefits playgrounds bring to children's development and local communities they live in. We want the best for children and know that it's important for Miracle to give back to the kids in this time of concerns over budgets and childhood obesity."
"In today's economic conditions, we understand the need to help America's Schools financially and are supporting them with five million dollars from Miracle's Grants for America's Schools Program," said Don Hemingway, Vice President of Business Development. "And Miracle's grants will help more children have the opportunity to engage in more active play. It encourages imaginative, enthusiastic play which is essential in the cognitive and physical development of children."
With over 80 years of experience, Miracle Recreation Equipment Company is one of the largest manufacturers of commercial outdoor playgrounds and recreational equipment in the U.S. Based in Monett, Missouri, the company offers its customers innovative and unique play structures that maximize play value while maintaining the highest levels of safety and developing children's physical, social and cognitive skills. Miracle's products provide children with exciting and safe places to play, physical exercise, social integration, confidence, self-esteem and improved motor skills. The company is dedicated to Shaping the Future of Play.
For more information or to set up an interview, contact: Vicki Douglass, Marketing Manager, +1 704-949-1630 or [email protected]