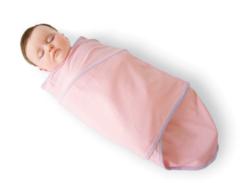 It has come to our attention that there are non-certified, likely non-compliant and potentially dangerous counterfeit Miracle Blankets® being imported into the United States
Rio Rancho, NM (PRWEB) June 09, 2011
Miracle Industries, LLC is warning consumers and retailers about the sale of potentially unsafe counterfeit Miracle Blanket® swaddling blankets for newborns.
"It has come to our attention that there are non-certified, likely non-compliant and potentially dangerous counterfeit Miracle Blankets® being imported into the United States," said Michael Gatten, CEO, Founder and Inventor of the widely popular swaddling blanket known for calming fussy, colicky infants. Gatten says "We have discovered that some retailers are being misled and enticed with similar branding and lower than normal wholesale pricing."
Gatten assures consumers that Miracle Industries is working diligently to stop these counterfeit goods from coming into North America. In the meantime Gatten says it's important to inform the public that these knock-off blankets may not be CPSIA compliant (Consumer Product Safety Improvement Act). This would mean that they have not been tested for outlawed chemicals such as lead, formaldehyde, phthalates, etc.
"All authentic Miracle Blanket® swaddling blankets are made at our (ONE) thoroughly audited factory. They are tested and certified to OEKO-TEX® Standard 100 by the Testex Swiss Textile Testing Institute, an independent lab," said Gatten. "The Miracle Blanket® swaddling blanket is tested beyond the requirements of law, so when you purchase Miracle Blanket® swaddling blankets from the source, we guarantee they've been certified and tested to the highest standards."
Any counterfeit blanket will not carry that guarantee or the company's 100% return warranty policy. More importantly, Gatten says any counterfeit blanket is not covered by the company's product liability insurance.
The company also says it is possible that any imitation product may be recalled or even seized by federal officials if the product is found to be unauthorized and/or counterfeit.
Retailers can protect their customers from counterfeit blankets by knowing who they are purchasing from. All legitimate Miracle Blanket® swaddling blankets come from one factory and are imported ONLY by Michael D. Gatten (Miracle Industries, LLC.), inventor of the Miracle Blanket® swaddling blanket, and sole owner of all patents, trademarks and copyrights for the Miracle Blanket® swaddling blanket.
The only authorized, wholesale distributors for the Miracle Blanket® swaddling blanket in North America are as follows:
Miracle Industries, LLC (Chris Rasco) – USA
Bonfit America – USA
Ivy League Tots – USA
Fulton Sales/ALCA Dist. – CAN
Consumers can also purchase Miracle Blanket or check for authorized resellers through our online store locator at http://www.MiracleBlanket.com.
Miracle Industries, LLC., parent company of Miracle Blanket®, is based in Rio Rancho, New Mexico. Michael D. Gatten formed the original company as AMB Enterprises in early 2002 to produce and distribute the Miracle Blanket®. Substantial success led to the dissolution of the Oregon based AMB Enterprises and the subsequent incorporation in New Mexico as Miracle Industries, LLC. in October 2008. Primary distribution for Miracle Blanket is via the Internet, (miracleblanket.com) and through major retailers, pediatric offices, maternity wards, independent boutiques and select childcare professionals. Miracle Blankets are sold throughout the United States, United Kingdom, South Africa, Switzerland, Canada, Israel, Korea, Australia, New Zealand, Germany, Japan, Taiwan, China, Indonesia, and the Philippines to name a few.
Contact:
Susan Calloway
Miracle Industries, LLC.
(214) 675-0539
Susan(at)MiracleBlanket(dot)com
# # #