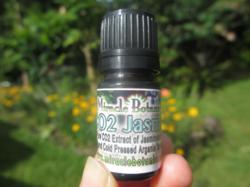 In addition to the physical benefits of using Jasmine and Argan as part of a skincare system, this all-natural synergistic blend is designed to help liberate people from depression that coincides with feeling victimized by other people.
Pahao, HI (PRWEB) August 06, 2012
Miracle Botanicals just released a new Pure Essential Oil formula which contains 10% Co2 extracted Jasmine Essential Oil. Jasmine essential oil is known to improve skin tone and elasticity, and it helps heal stretch marks and scarring.
[Note: Co2 extraction is fairly new and considered by many in the industry as the favorite method, because it simply yields the best results. Specifically, Co2 is a cold extraction using Carbon Dioxide and pressure, which leaves the precious plant essences untarnished by heat. In addition, the Co2 method of extraction almost instantaneously extracts the oil and does not leave any residue, as the CO2 transforms into a gas and evaporates immediately after the pressure is released.]
Argan Oil makes up 90% of this blend. Argan oil contains many poly-unsaturated fatty acids including: linoleic acid, Omega 6 fatty acids, and natural tocopherols, which are all nourishing, regenerating, and protective to the skin. It also helps with free radical damage, aging, and eczema.
According to Rev. Hope Johnson, founder of Miracle Botanicals, "This blend of plant essences makes a great skin brightener, balancer and rejuvinator, which can be applied directly to the skin or blended with other oils as a custom formula. Co2 is a very effective method of extraction which yields an extremely pure and intact plant essence."
In addition to the physical benefits of using Jasmine and Argan as part of a skincare system, this all-natural synergistic blend is designed to help liberate people from depression that coincides with feeling victimized by other people.
Rev. Hope Johnson explains this aspect of her new formula as follows: "The other people that humans experience from day to day are mirrors of consciousness. This does not mean that if someone acts angry toward a person, the person perceiving the anger is angry; or if someone has lied to someone that the person being lied to is a liar.
The mirror is much kinder and more instructive than these and other mental labels of self worth. Specifically, perception of other people serves to mirror the judgment being held in perceiver's consciousness - which causes a conditioned feeling response to arise within.
In this way, whenever anyone feels like they've been wronged by another person, it only means that the first person has given their power to the other in thought, thus making their self out to be a victim. To the extent anyone believes their self to have been wronged, they experience victimhood and anger, which leads to depression.
The feelings that arise in response to the idea of having been wronged is an indication of how a person has been programmed to create their life up to the present moment. But each person, being the awareness from which everything arises, has the power to respond in a new way - thus deliberately programming their consciousness to create a life experience that glorifies their Divine essence.
To effectuate the process of deliberate re-programming, one must notice when they experience a feeling of mental/emotional dis-ease, stop what they're doing, and just observe the thoughts as they tell a programmed story.
This is where Miracle Botanicals' Jasmine and Argan come in as angelic helpers. Jasmine resonates with the Divine Feminine energy, which gently guides the perceiver to see through the delusion of programmed mind, to Trust that Spirit is working for the greater good of All, and to remember their Divinity in the present moment. Argan oil encourage flexibility in life and Spiritual surrender.
A few drops of this oil applied anywhere on the body, diffused in a room or added to a bath incites the understanding that whatever has happened, is happening or will happen has been 'right' because it has led to this precious moment. Indeed, it's all going perfectly from the perspective of Spirit - and despite what the confused mind will have people believe, nobody is a separate entity from the One Spirit.
Through this practice, judgments that no longer serve people are released, not because they are resisted - but because their conscious perspective has been shifted into closer alignment with Eternal Life. In turn, the world around them changes to reflect their new state of consciousness as they progress along this path."
Indeed, those who walk the path of Spirit know that as one's perspective shifts out of victim consciousness, they experience more peace, harmony and delight in their relationships and in their Life experience. This blend of plant essences can be a very powerful catalyst for effectuating such shifts.
Miracle Botanicals is the leading provider of Reiki charged pure essential oils that help people align with their Divine identity and return to their natural state of optimal health, abundance and well being. For more information, please visit http://www.miraclebotanicals.com.
The founder of Miracle Botanicals, Rev. Hope Johnson is devoted to being a clear channel for Divine inspiration and instruction. She is passionate about being a facilitator to expanding Consciousness here on the earth plane through her work and play. Her recorded spiritual insights can be found here: http://www.thewaytotheway.com