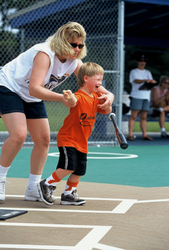 There are experiences that change the way we look at life, the way we pursue our dreams and the way we live our lives. The Miracle League is one of those experiences
Cheektowaga, NY (Vocus) December 18, 2008
Surface America, leader in the playground and recreational surfacing industry, announces its partnership with The Miracle League, a national organization committed to providing opportunities for all children to play baseball regardless of physical ability.
In the agreement, Surface America becomes the only approved partner for poured-in-place athletic surfaces installed at Miracle League facilities across the U.S. Using Surface America's resilient, seamless EverTop™ surface - for both the infield and outfield - each Miracle League field is ideally suited for athletes with special needs.
Made from recycled rubber and polyurethane, the Surface America field will provide a combination of exceptional footing and smoothness, eliminating barriers and dangers for children using walking aides or for those with visual impairments. EverTop's porous design also prevents puddles from forming on the surface.
"As an athlete, I understand the value and benefit of children being involved in sports. Being in a position to help give that opportunity to all children by providing a safe, user-friendly playing surface for The Miracle League is extremely rewarding," states Jim Dobmeier, President & Founder of Surface America.
"There are experiences that change the way we look at life, the way we pursue our dreams and the way we live our lives. The Miracle League is one of those experiences," says Diane Alford, National Executive Director of The Miracle League.
Some of the field installations will also include an adjoining playground, using Surface America's proven PlayBound™ Poured-in-Place surfacing system. PlayBound Poured-in-Place is a 2-layer system consisting of a resilient basemat made from 100% post-consumer recycled rubber and polyurethane; and a tough, wear-resistant top surface made from post-industrial recycled rubber and polyurethane.
In both EverTop and PlayBound Poured-in-Place systems, the rubber and urethane components are mixed and applied on site, allowing for complete customization and the use of eye-catching colors. The thickness of the material can be modified to meet varying critical fall heights within a playground. EverTop and PlayBound Poured-in-Place's top layer are built with an industry-leading percentage of material, significantly increasing the surface's expected life. Both systems conform to the requirements of the Americans with Disabilities Act and ASTM F-1951-99 Determination of Playground Surface Accessibility.
Founded in 1993, Surface America is known as North America's leading playground and recreational surfacing company - installing more than fifteen million square feet of recycled rubber surfacing on thousands of playground and recreation areas from coast-to-coast. In addition, Surface America provides surfacing systems for trails & pathways, gymnasiums, fitness facilities and athletic fields marketed under the A-Turf (a sister company) brand. For more information on Surface America visit http://www.SurfaceAmerica.com.
About The Miracle League:
Founded in 1999, The Miracle League's mission is to provide opportunities for all children, regardless of ability, to play baseball. What began with 35 players on four teams has grown to 220 Miracle League Organizations throughout the country, including Puerto Rico, serving 90,000 children and young adults with disabilities. For more information visit http://www.miracleleague.com.
Media Contact:
Hope Banner
Scheffey Integrated Marketing
717-569-8274
hbanner(at)scheffey.com
###