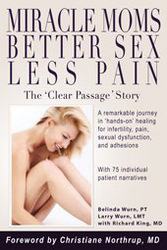 A heartfelt thank you for providing women all over the world with such a safe, natural, and effective therapy to enhance fertility and pelvic health. Your work is a Godsend
Gainesville, FL (PRWEB) September 2, 2009
Adhesions are a leading cause of female infertility, pain, and sexual dysfunction. Many women have avoided surgery for these conditions by using a 'hands-on' physical therapy, with proven scientific results.
In the upcoming book 'Miracle Moms, Better Sex, Less Pain,' research gynecologist Richard King, MD joins Belinda and Larry Wurn to share a 20-year medical journey examining a physical therapy treatment to help patients achieve goals of pregnancy, better sex, and a pain-free life. Born from Belinda's debilitating adhesion pain after cancer surgery, 'Miracle Moms' is a pioneering work.
Endorsed by Christiane Northrup, MD, 'New York Times' best-selling author (who wrote the Foreword) and physicians from Harvard, Columbia, Northwestern, and other fine medical schools, this book promises to usher in a women's health revolution for the 21st century.
"A heartfelt thank you for providing women all over the world with such a safe, natural, and effective therapy to enhance fertility and pelvic health. Your work is a Godsend," says Dr. Northrup.
With over 700 pages, 'Miracle Moms' is an elegant combination of more than 80 heart-felt patient narratives, and 20 years of theory, development, treatment, and published scientific research. More than 100 original illustrations provide a visual journey into the body and help explain how adhesions cause problems for so many patients and doctors, and why the unique manual therapy (Wurn Technique) was successful for so many women who were diagnosed "beyond help" by their physicians - until this therapy fulfilled their dreams.
The authors have published studies in some of the most respected peer-reviewed medical journals in the US. Studies in 'Medscape General Medicine' (2004) and 'Fertility and Sterility' (2006) showed that the therapy improved female fertility and decreased or eliminated endometriosis pain and intercourse pain in most participants. A major study in 'Alternative Therapies in Health and Medicine' (2008) showed that the therapy opened totally blocked fallopian tubes in women who had been diagnosed infertile - a feat previously thought impossible. Most had natural pregnancies after their tube(s) opened. The therapy also provides hope for people with post-surgical pain and life-threatening bowel obstructions - common occurrences after surgery.
'Miracle Moms, Better Sex, Less Pain' will be published September 15, 2009 and available in most bookstores for $29.95. http://www.miraclemoms.net
'Miracle Moms, Better Sex, Less Pain: A Remarkable Journey in Hands-on Healing for Infertility, Pain, Sexual Dysfunction, and Adhesions' by Belinda Wurn PT, Larry Wurn, LMT with Richard King, MD. Original edition. 6 x 9" with 704 pages, 110 illustrations. ISBN 9811868. $29.95.
# # #