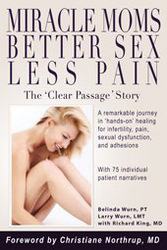 Your work is a Godsend
Gainesville, FL (PRWEB) September 10, 2009
'Miracle Moms' co-authors Larry and Belinda Wurn, recognized leaders in non-surgical treatment for female infertility and chronic adhesion pain, launch http://www.miraclemoms.net. This new site is geared towards news and online social connections about subjects in their upcoming book, 'Miracle Moms, Better Sex, Less Pain: A Remarkable Journey in Hands-on Healing for Infertility, Pain, Sexual Dysfunction, and Adhesions.'
According to the National Center for Health Statistics, an estimated six million women in the US experience infertility, and that number is growing. Ovulation problems account for a big part of female infertility; warning signs include irregular or absent menstruation. Adhesions and blocked fallopian tubes are also major causes of infertility. Fallopian tubes can become blocked by adhesions after surgery, trauma, infection, or inflammation.
Adhesions can form whenever the body heals from infection, inflammation, surgery or trauma. Pelvic and abdominal surgeries such as laparoscopy, C-section or D&C are primary causes of adhesions. Traumas such as auto accident, fall, or abuse also cause adhesions. Infection and inflammation (endometriosis, pelvic inflammatory disease, or STD) can all cause adhesions to form in the bowel or female reproductive organs. As adhesions grow, they can restrict normal body function and cause pain and dysfunction, including nearly half of all female infertility.
"We have already featured three ebooks at miraclemoms.net and plan to offer more," says Co-Author Larry Wurn, LMT and Director of Clinical Studies of Clear Passage Therapies. "These ebooks are free to our website guests and cover chapters directly from 'Miracle Moms' on blocked fallopian tubes, endometriosis pain, endometriosis and infertility, and coming soon, surgical and bowel adhesions."
'NY Times' best selling author Christine Northrup, MD wrote the Foreword. Physicians and authors from Harvard, Columbia, Northwestern medical school, and more join her in praising 'Miracle Moms'.
"Your work is a Godsend," says Dr. Northrup. "A heartfelt thank you for providing women all over the world with such a safe, natural, and effective therapy to enhance fertility and pelvic health."
Co-Author Belinda Wurn, PT, Clinical Director of Clear Passage Therapies says, "We hope miraclemoms.net will become a resource for people to learn and connect on topics focused on infertility, adhesions, and related health issues."
'Miracle Moms, Better Sex, Less Pain' will be published September 15, 2009 and available online and in bookstores for $29.95. A special authors' online discount will be available for guests of http://www.miraclemoms.net for $24.95.
'Miracle Moms, Better Sex, Less Pain: A Remarkable Journey in Hands-on Healing for Infertility, Pain, Sexual Dysfunction, and Adhesions' by Belinda Wurn PT, Larry Wurn, LMT with Richard King, MD. Original edition. 6 x 9" with 704 pages, 110 illustrations. ISBN 9811868. $29.95.
###