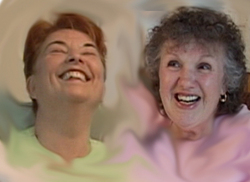 A Course In Miracles Unleashed
Wisconsin Dells, WI (Vocus) August 23, 2009
Preparations are underway at The Miracles Healing Center in Wisconsin Dells, WI for a three-day event entitled, "A Course In Miracles Mind Training: Workbook 101", which is described as "a very highly focused and directed free-for all, demonstrating the immediate and dramatic miraculous possibilities of transformation through the first fifty lessons of A Course In Miracles."
Illuminate teachers, Rosie Kearns and Jan Hollett, who both appeared in the acclaimed independent documentary film, "A Course In Miracles Unleashed", will be hosting the event which is scheduled to begin at 7:00 PM on Friday, August 27, and end on Sunday, August 29, 2009.
According to presenter, Rosie Kearns, "the focus of the intensive is to engage the minds of participants in the enlightened procedure demonstrated by Jesus Christ in the workbook of A Course In Miracles, since it is by doing the exercises that the enlightenment goal of the Course can be realized." Kearns added, "we are concentrating on the workbook which has as its stated purpose, 'to train the mind in a systematic way to a different perception of everyone and everything in the world.' This is truly the adventure of a great awakening."
"If I can offer anything, it would be my certainty that you are sustained by the Love of God. That fact is the answer to every problem that will confront you, today and tomorrow and throughout time. This is lesson 50 of the Workbook of A Course In Miracles."
"In this world," Kearns continues, "you believe you are sustained by everything but God. Your faith is placed in the most trivial and insane symbols; pills, money, "protective" clothing, influence, prestige, being liked, knowing the 'right' people, and an endless list of forms of nothingness that you endow with magical powers."
"All these things," quotes Kearns, "are your replacements for the Love of God. All these things are cherished to ensure a body identification. They are songs of praise to the ego. You have to learn not to put your faith in the worthless. It will not sustain you. Only the Love of God will protect you in all circumstances. It will lift you out of every trial, and raise you high above all the perceived dangers of this world into a climate of perfect peace and safety. It will transport you into a state of mind that nothing can threaten, nothing can disturb, and where nothing can intrude upon the eternal calm of the Son of God. Do not put your faith in illusions. They will fail you. Put all your faith in the Love of God within you; eternal, changeless and forever unfailing. This is the answer to whatever confronts you today. Through the Love of God within you, you can resolve all seeming difficulties without effort and in sure confidence. Tell yourself often today that you are sustained only by the Love of God. It is a declaration of release from the belief in idols. It is your acknowledgment of the truth about yourself. I know this from direct experience, and that experience is available at this event to everyone who wants it. All are welcome. Come just as you are."
A full event program and registration details can be found at: http://www.acourseinmiraclesonline.com/workbook101.htm
# # #