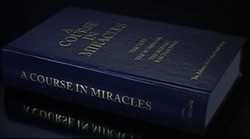 you speak for all the world and Him Who would release the world, as He would set you free.
Lake Delton, WI (Vocus) September 11, 2009
"Loss is not loss when properly perceived. Pain is impossible. There is no grief with any cause at all. And suffering of any kind is nothing but a dream. This is the truth, at first to be but said and then repeated many times; and next to be accepted as but partly true, with many reservations. Then to be considered seriously more and more, and finally accepted as the truth. I can elect to change all thoughts that hurt. And I would go beyond these words today, and past all reservations, and arrive at full acceptance of the truth in them."
This reading of Lesson 284 of A Course In Miracles began a highly confrontational lecture by illuminate teacher, Clare Lamanna, to a gathering of spiritual seekers in Reedsburg, WI on Wednesday.
Lamanna, spoke of her direct personal realization of such admonitions in the Course as: "Seek ye first the Kingdom of Heaven, because that is where the laws of God operate truly, and they can operate only truly because they are the laws of truth."
Lamanna expressed her surprise at discovering that, "God has no secrets. He does not lead you through a world of misery, waiting to tell you, at the journey's end, why He did this to you. You are in need of nothing but the truth. And, No one can fail who seeks to reach the truth."
Lamanna continued by directing the seekers to the necessity for the individual experience of enlightenment, and spoke of the description in Lesson 107 of A Course In Miracles, as an accurate verbal expression of the phenomenon of her own awakening. She read:
"Can you imagine what a state of mind without illusions is? How it would feel? Try to remember when there was a time, - perhaps a minute, maybe even less - when nothing came to interrupt your peace; when you were certain you were loved and safe. Then try to picture what it would be like to have that moment be extended to the end of time and to eternity. Then let the sense of quiet that you felt be multiplied a hundred times, and then be multiplied another hundred more."
"And now you have a hint, not more than just the faintest intimation of the state your mind will rest in when the truth has come. Without illusions there could be no fear, no doubt and no attack. When truth has come all pain is over, for there is no room for transitory thoughts and dead ideas to linger in your mind. Truth occupies your mind completely, liberating you from all beliefs in the ephemeral. They have no place because the truth has come, and they are nowhere. They can not be found, for truth is everywhere forever, now."
"I am speaking from the authority of my own illumination," continued Lamanna. "This is what I have come to realize. When truth has come it does not stay a while, to disappear or change to something else. It does not shift and alter in its form, nor come and go and go and come again. It stays exactly as it always was, to be depended on in every need, and trusted with a perfect trust in all the seeming difficulties and the doubts that the appearances the world presents engender. They will merely blow away, when truth corrects the errors in your mind."
"Jesus Christ expresses it in an infinitely more poetic manner than I do, joked Lamanna, " but," she continued, "when truth has come it harbors in its wings the gift of perfect constancy, and love which does not falter in the face of pain, but looks beyond it, steadily and sure. Here is the gift of healing, for the truth needs no defense, and therefore no attack is possible. Illusions can be brought to truth to be corrected. But the truth stands far beyond illusions, and can not be brought to them to turn them into truth."
"Truth does not come and go nor shift nor change, in this appearance now and then in that, evading capture and escaping grasp. It does not hide. It stands in open light, in obvious accessibility. It is impossible that anyone could seek it truly, and would not succeed. Today belongs to truth. Give truth its due, and it will give you yours. You were not meant to suffer and to die. Your Father wills these dreams be gone. Let truth correct them all. Do not forget your function for today. Each time you tell yourself with confidence, "Truth will correct all errors in my mind," you speak for all the world and Him Who would release the world, as He would set you free."
Clare Lamanna appears in The Mission of A Course In Miracles with Master Teacher, can also be seen in the documentary, "A Course In Miracles Unleashed; A Direct Encounter with Jesus Christ In the Evolution and Enlightenment of The Human Species" available at http://www.acourseinmiraclesunleashed.com.
###