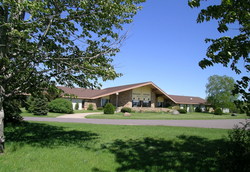 The Transformational Art of Divine Improvisation
Wisconsin Dells, WI (Vocus) September 19, 2009
The Transforming Art of Divine Improvisation event kicked off on Friday night at the Miracles Healing Center in Wisconsin Dells, with a grand reunion of A Course In Miracles students and teachers from nine different countries and several states across the USA. The two hour session which was designed to give an overview of the program for the entire weekend, was a delicate weaving of inspired teaching, healing, music and dance.
The interaction between the three presenters of the evening was itself a demonstration of the communicative flow, harmony and joy, engendered by dedicated practice of the mind training program of A Course In Miracles, as they each supplied an essential component of the program.
Tony Cryer reminded students that they were playing a role in space time, and that it would be infinitely more beneficial for each one to assume entirely, the role of the Son of God, take literally the teachings of A Course In Miracles, and "watch the dream of judgment convert to Light."
Cameron Kennedy and Ellen Kennedy each spoke of improvisation as the action of entering into the Divine flow of Creation by "letting go and letting God."
The presenters presented in a their own unique ways the teaching of Jesus Christ in A Course In Miracles, and though the presentation was accompanied by music, it unequivocally expressed the following passage in A Course In Miracles, "This world is causeless, as is every dream that anyone has dreamed within the world. No plans are possible, and no design exists that could be found and understood. What else could be expected from a thing that has no cause? Yet if it has no cause, it has no purpose. You may cause a dream, but never will you give it real effects. For that would change its cause, and it is this you cannot do. The dreamer of a dream is not awake, but does not know he sleeps. He sees illusions of himself as sick or well, depressed or happy, but without a stable cause with guaranteed effects.
"The miracle establishes you dream a dream, and that its content is not true. This is a crucial step in dealing with illusions. No one is afraid of them when he perceives he made them up. The fear was held in place because he did not see that he was author of the dream, and not a figure in the dream. He gives himself the consequences that he dreams he gave his brother. And it is but this the dream has put together and has offered him, to show him that his wishes have been done. Thus does he fear his own attack, but sees it at another's hands. As victim, he is suffering from its effects, but not their cause. He authored not his own attack, and he is innocent of what he caused. The miracle does nothing but to show him that he has done nothing. What he fears is cause without the consequences that would make it cause. And so it never was.
"This world is full of miracles. They stand in shining silence next to every dream of pain and suffering, of sin and guilt. They are the dream's alternative, the choice to be the dreamer, rather than deny the active role in making up the dream. They are the glad effects of taking back the consequence of sickness to its cause. The body is released because the mind acknowledges "this is not done to me, but I am doing this." And thus the mind is free to make another choice instead. Beginning here, salvation will proceed to change the course of every step in the descent to separation, until all the steps have been retraced, the ladder gone, and all the dreaming of the world undone."
The audience was enthralled by the sheer poetry of the teaching and melody of the music. An atmosphere of love and light pervaded the entire room, and the evening concluded on a celebratory and prayerful note.
One impassioned participant gushed, "I don't know how to describe the beautiful evening of light and healing. But I can say that miracles abound at the Miracles Healing Center this weekend. Ellie, Cam and Tony promised that we will be leaving this continuum by remembering the voice for God through song and harmony; and accepting the role given us in our own conversion and revelation . What a night! It was topped off with an incredible version of Amazing Grace performed in a jazz style of music not from this world. It is just impossible to explain what is happening at this event. All I can say is that communication with the Universe has been restored. I Love you."
The event "The Transformational Art of Divine Improvisation" began at 7:00 PM on Friday, September 18 and is scheduled to end on Sunday, September 20, 2009. The program is available at http://www.endeavor academy.com/flyer/09-09-18-wisdells-en.pdf.
###