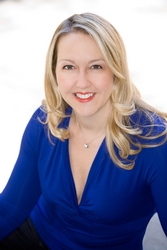 "Kim Ann Curtin is the world's best problem solver." -Jim Kukral
New York, NY (PRWEB) September 27, 2010
Kim Ann Curtin has announced her new offerings as a professional Fixer, Miracle Worker and Solution Expert after having heard for years from friends and clients that she has no relationship with the word impossible. Need to get past ardent gate keepers, deftly navigate a PR matter or need an innovative idea? Kim's remarkable ability has proved successful under the most daunting and challenging of situations.
A Keith Ferrazzi Relationship Masters Academy Founding Coach who spent ten years as a C-level executive and personal assistant and the past four as an ICF certified coach & strategist Kim Ann Curtin is an expert at putting out fires and creating solutions. Her ability to think innovatively in the most unusual of challenges is why past clients have called her: "Kim-Possible." "A trust agent." "Engaging and powerful." "A catalyst for possibility, passion and profit." "A best friend, a soothsayer, and a professional guru all rolled in one." "Unlocks your internal strengths." "Left me reinvigorated, confident and encouraged."
Kim is the opposite of a yes man. She tells her clients the truth about their situation and where "it's at" because she is invested in each and every client and what is best for them. She is a trust agent whose only agenda is the client's agenda. Kim is also adept at recognizing how limiting beliefs can get in the way of a client's success and is willing to identify these when necessary and provide a map that will show anyone how to get past their road blocks.
Kim's unusual personal and professional life experience has made her a master hurdler. Add to the mix her extraordinarily diverse Rolodex and she is a force to be reckoned with!
Since Kim's word is impeccable and her commitment unparalleled her services are expensive. She is also very selective about the clients she works with. But if you are lucky enough to work with her in just a short while, you won't be able to imagine how you ever got along without her.
Kim has been featured in CNN.Money; Fortune Magazine; Smart Money; USA Today; TheStreet.com and Associated Press, among others.
# # #