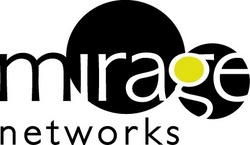 Mirage claims Patent Office approval for post-admission NAC
AUSTIN, Texas (PRWEB) August 13, 2008
The patent involves the processes used to invoke various forms of mitigation for the purposes of controlling an endpoint's access to the network. Filed in October 2002, the patent embraces Mirage's ARP-based address management enforcement/mitigation for each type of source and destination address - and embodies Mirage's goal of deterring network incursion. It combines key attributes of Mirage post-admission NAC into a coherent system designed to protect computer networks from attacks. This is the essence of post-admission threat enforcement performed by Mirage, for which it has four independent patent claims.
"The patent is a follow-up to #7124197, for its 'virtually inline' method of using address resolution protocol (ARP) to control network access. It covers use of the same methods to protect networks from attacks," said Paul Roberts, senior analyst with The 451 Group, a technology industry analyst company focused on the business of enterprise IT innovation, in his report. "Patents matter in crowded niches like NAC. We know of other companies that use ARP management to do NAC. Mirage's win at the Patent Office could give it a leg up with competitors. It's less clear how broadly the new patent claims will be interpreted, or whether Mirage plans to enforce them with companies it thinks are infringing." These comments appeared in an independent report, titled "Mirage claims Patent Office approval for post-admission NAC," which was published on August 12 of this year (see Editor's Note below).
Mirage's NAC solution enables maximum network performance by controlling network access, isolating non-compliant and threatening endpoints, and providing self-remediation capabilities. Mirage's network-based solution is the easiest NAC solution to deploy, as it requires no agent software, deploys virtually inline, and works in any network environment.
"This is another excellent validation of Mirage's leadership in the market," said Grant Hartline, chief technical officer for Mirage Networks. "We're creating genuinely innovative technology to give our customers the tools they need to prevent today's network attacks."
Mirage solutions are made available through Authorized ChannelFirst Partners and can also be delivered as a managed service.
About Mirage Networks
Mirage Networks, Inc. is the leading provider of Network Access Control (NAC) solutions. Mirage's patented technology gives organizations control of all network devices, increases network uptime, ensures policy compliance, and reduces operational costs. Mirage's NAC appliances work in all network environments, deploy virtually inline, and require neither signatures nor agents to enforce policy and terminate zero-day threats. Mirage Networks is a consistent winner of industry awards and recognition. Learn more at http://www.miragenetworks.com or visit the Mirage CTO Blog at http://www.mirageblog.com.
© 2008, Mirage Networks, Inc. All rights reserved worldwide. Mirage Networks, its product and program names, and design marks are trademarks of Mirage Networks, Inc.
Editor's Note: The 451 Group's report, "Mirage claims Patent Office approval for post-admission NAC," referenced above, is an independently-produced report that was neither sponsored by nor otherwise funded directly by Mirage Networks. The report and its entire contents are the sole property of The 451 Group, copyright 2008, and are reproduced here by permission. The entire contents of this report are available at http://www.the451group.com.