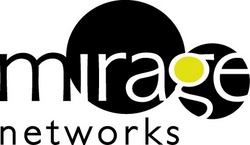 While there are clear environmental benefits to more energy efficient products, the tangible cost savings are what are really driving customers to go 'green'
AUSTIN, Texas (PRWEB) September 23, 2008
An analysis of recent industry data shows that up to 40 percent of data center operating costs are power and cooling-related expenses, ranking second just below labor. Mirage's latest solution eases that financial burden for customers by improving the performance per watt -- or how fast a unit does its work and how much energy it consumes in the process -- of NAC appliances. Benchmarks have shown the new green product line offers a performance per watt improvement of nearly 700 percent. This includes a 740 percent boost in pure performance with a decrease in power consumption of 20 percent, and a reduction in cooling needs by 26 percent. Energy for cooling is a significant part of energy consumed.
Mirage's new green product line addresses the needs of customers who are subject to local, state and federal mandates requiring organizations in various sectors to reduce energy consumption. A typical Fortune 1000 using Mirage's solution can reduce power and cooling requirements by 20 percent and surpass the requirements of most mandates. These and other statistics are covered in-depth in "The Greening of the Datacenter," a new podcast released today by Mirage and available for no charge here.
"While there are clear environmental benefits to more energy efficient products, the tangible cost savings are what are really driving customers to go 'green'," said David Thomas, vice president of products for Mirage Networks. "From consumer gaming consoles to high-end supercomputers, companies in all areas of computing are pursuing green IT initiatives. We are proud to continue our leadership in the space by delivering NAC products that address this need."
Mirage's NAC solution enables maximum network performance by controlling network access, isolating non-compliant and threatening endpoints, and providing self-remediation capabilities. Mirage's network-based solution is the easiest NAC solution to deploy, as it requires no agent software, deploys virtually inline, and works in any network environment.
Mirage solutions are made available through Authorized ChannelFirst Partners and can also be delivered as a managed service.
About Mirage Networks
Mirage Networks, Inc. is the leading provider of Network Access Control (NAC) solutions. Mirage's patented technology gives organizations control of all network devices, increases network uptime, ensures policy compliance, and reduces operational costs. Mirage's NAC appliances work in all network environments, deploy virtually inline, and require neither signatures nor agents to enforce policy and terminate zero-day threats. Mirage Networks is a consistent winner of industry awards and recognition. Learn more at http://www.miragenetworks.com or visit the Mirage CTO Blog at http://www.mirageblog.com.
© 2008, Mirage Networks, Inc. All rights reserved worldwide. Mirage Networks, its product and program names, and design marks are trademarks of Mirage Networks, Inc.