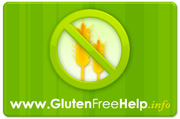 "I'm truly living my dream of being able to reach out and help the celiac community," says Miranda Jade Turbin
Los Angeles, CA (PRWEB) February 22, 2012
Miranda Jade Turbin, just recently announced as the new official partner of the internationally-recognized, award-winning gluten-free resource website GlutenFreeHelp.info, is already exerting impressive influence on the gluten-free community, which has welcomed the 22-year-old celiac advocate with open arms.
GlutenFreeHelp.info, voted the #2 .info website in the world out of over 6 million registered .info websites, is a leading resource for celiacs and gluten-free individuals. In January, Tina Turbin, the multi-award-winning children's author, celiac advocate and founder of GlutenFreeHelp.info, announced the exciting news that her celiac daughter, Miranda Jade, is the new official partner of the popular website.
At the time of the announcement, Tina Turbin spoke of her daughter's extensive help over the past year with administrative functions as well as with contributing gluten-free recipes, reviews and research. Since the big news was released, Miranda Jade has largely taken over managing the website and has already made some major headway on behalf of the gluten-free community, especially the younger segment.
Miranda Jade's touching story of her entire childhood--18 years--of misdiagnoses as well as her experiences with dermatitis herpetiformis (DH), an intensely itchy, blistering skin rash associated with celiac disease and gluten intolerance, have resonated deeply with the gluten-free community. With these experiences behind her, she writes from the heart with a passion to help other celiacs in a manner that appeals to people of all ages, including teens and young adults.
"Our followers have really responded to Miranda's contributions to GlutenFreeHelp.info," said Tina Turbin. "They recognize that Miranda truly researches and writes from the heart with a sincere passion for helping others, and at just 22 years old, younger celiacs have someone they can relate to."
Just one example of the impact Miranda Jade is having and of the high demand for her celiac advocacy work is the invitation she received to submit the first-ever gluten-free recipe to a very popular website catering to a younger crowd. Her Valentine's Day Tart recipe can be found at http://datingsymbol.com/2012/02/13/a-gluten-free-valentines-day-tart-to-set-the-mood/.
"It's so rewarding to see the response I've generated so far," Miranda Jade said. "I'm truly living my dream of being able to reach out and help the celiac community. " According to Miranda Jade, this is just the beginning of her influence, as many exciting plans are scheduled to unroll this year.
To book Tina Turbin or Miranda Jade Turbin for an interview or speaking engagement: Contact media(at)glutenfreehelp(dot)info.
To learn more about Miranda Jade Turbin visit: http://glutenfreehelp.info/about-tina-turbin/
To purchase any of the gluten-free ebooks visit: http://glutenfreehelp.info/gluten-free-and-celiac-ebooks-available-here/
ABOUT MIRANDA JADE TURBIN, PRESIDENT AND OWNER OF GLUTENFREEHELP.INFO: Miranda Jade Turbin was finally diagnosed with celiac disease after 18 years--her entire childhood--of repeated misdiagnoses, going from one doctor to the next and in and out of hospitals without any answers. Within two weeks of removing all gluten from her diet, Miranda Jade's life completely turned around. After her experience, she knew in her heart she had to help others as an advocate for celiac disease and gluten sensitivity. Miranda Jade teamed up with her mother Tina Turbin, also a diagnosed celiac and founder of the award-winning website GlutenFreeHelp.info, to this day handling all communications for this very busy website. Miranda Jade has gone on to write numerous eBooks, articles, reviews, and sought-after gluten-free grain-free recipes. Miranda Jade is bicoastal with gluten-free test kitchens on both coasts.
ABOUT TINA TURBIN, FOUNDER OF GLUTENFREEHELP.INFO: Tina Turbin wrote her first story at age sixteen, and has since gone on to enjoy tremendous success as a multi-
award-winning author, humanitarian, and researcher. Working for many years in Los Angeles with children in the Entertainment Business, she remains an active supporter of children, families, and education and works as an advocate in the arenas of literacy and celiac disease. The Danny the Dragon series fulfills a passion of hers to delight and entertain through her enchanting characters. Turbin resides in her East and West Coast studios.
For more information or to schedule an interview, please call Rosie Newman 888-701-6481 or media(at)glutenfreehelp(dot)info
###