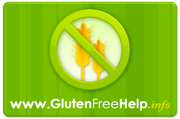 It's extremely gratifying to be able to reach out and make a difference
Los Angeles, CA (PRWEB) July 24, 2012
Miranda Jade Turbin, the celiac advocate behind the award-winning website, GlutenFreeHelp.info, is offering much-needed and appreciated advice on a routine basis to the gluten-free community. Taking care to respond personally to readers' questions and cries for help she is also now providing an abundance of free "Tip Sheets" on her website. Miranda Jade has established herself as a valuable asset to the gluten-free community.
"After my experiences with celiac disease, I'm passionate about helping other celiacs and gluten-sensitive people," said Miranda Jade. "It's extremely gratifying to be able to reach out and make a difference."
After an entire childhood experiencing undiagnosed celiac disease and dermatitis herpetiformis(DH), also known as the "gluten rash," Miranda Jade Turbin was finally correctly diagnosed as a young adult. Her swift recovery after eliminating gluten from her diet motivated her to help other celiacs and gluten-sensitive individuals. In 2010 she began helping her mother, the award-winning children's author and celebrated celiac advocate Tina Turbin, with her website, GlutenFreeHelp.info, voted the #2 .info website in the world out of over 6.7 million registered .info sites. Miranda Jade was announced the official partner January 2012 and has since worked diligently across many gluten-free arenas.
In addition to writing prolifically about celiac disease and gluten-free issues as well as ebooks, articles, reviews, her own recipes and blogs, Miranda Jade takes great care to answer the many questions of her readers personally and sometimes even posts her informative responses on her blog. Just recently, one of Miranda Jade's readers asked for her advice on the possible link between celiac disease and schizophrenia. Miranda Jade took the time to respond with the necessary research also bringing in her own and her mother Tina's experiences with celiac disease (http://glutenfreehelp.info/allergies/the-link-between-schizophrenia-and-celiac-disease-fact-or-fiction).
"I'm not an expert or qualified healthcare professional," Miranda Jade Turbin said, "yet I'm always happy to refer people with questions to properly qualified doctors and any other sources that may be able to answer their questions. I work as a team with many others in the gluten-free community internationally. My recent post on schizophrenia and a possible connection to celiac disease was one which benefited many people and the responses coming to me personally was touching. "
Additionally, Miranda Jade offers a remarkable number of Gluten-Free free "Tip Sheets," which can be found in her website's Gluten-Free Help Library (http://glutenfreehelp.info/gluten-free-tips). Examples of these free, printable documents include: "Signs to Look For: Do You Have Celiac Disease?" "Celiac Disease Explained," "Hidden Sources of Gluten," and "Gluten-Free Flour Guide."
"Whether someone is newly diagnosed with celiac disease, new to the concept of a gluten-free diet, or have been eating gluten-free for years, we now have many free tip sheets that can help with many of the issues people might be facing," Miranda Jade said.
"My absolute favorite part of my job is being able to help give the gluten-free community answers to the many questions I had for years," Miranda Jade said. The young advocate welcomes readers to peruse the Gluten-Free Help Library and to write her with any questions they may have. "I will do everything in my power to help and as needed to help point people in the direction of properly qualified sources."
To Book TinaTurbin Or Miranda Jade Turbin For An Interview Or Speaking Engagement: Contact media(at)glutenfreehelp(dot)info.
To Learn More About Miranda Jade Turbin Visit: http://glutenfreehelp.info/about-tina-turbin/
To Purchase Any Of The Gluten-Free eBooks Visit: http://glutenfreehelp.info/gluten-free-and-celiac-ebooks-available-here/
About Tina Turbin, Founder Of Glutenfreehelp.info: Tina Turbin wrote her first story at age sixteen, and has since gone on to enjoy tremendous success as a multi-award-winning author, humanitarian, and researcher. Working for many years in Los Angeles with children in the Entertainment Business, she remains an active supporter of children, families, and education and works as an advocate in the arenas of literacy and celiac disease. The Danny the Dragon series fulfills a passion of hers to delight and entertain through her enchanting characters. Turbin resides in her East and West Coast studios.
About Miranda Jade Turbin, Official Partner Of Glutenfreehelp.info: Miranda Jade Turbin was finally diagnosed with celiac disease after 18 years--her entire childhood--of repeated misdiagnoses, going from one doctor to the next and in and out of hospitals without any answers. Within two weeks of removing all gluten from her diet, Miranda Jade's life completely turned around. After her experience, she knew in her heart she had to help others as an advocate for celiac disease and gluten sensitivity. Miranda Jade teamed up with her mother Tina Turbin, also a diagnosed celiac and founder of the award-winning website GlutenFreeHelp.info, to this day handling all communications for this very busy website. Miranda Jade has gone on to write numerous eBooks, articles, reviews, and sought-after gluten-free grain-free recipes. Miranda Jade is bicoastal with gluten-free test kitchens on both coasts.
For more information or to schedule an interview, please call Rosie Newman 888-701-6481 or media(at)glutenfreehelp(dot)info