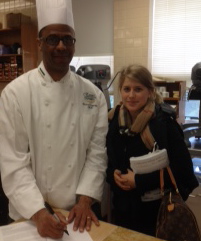 "It's really important to me to continue to study and improve myself in the arena of gluten-free baking," said Miranda Jade
Los Angeles, CA (PRWEB) April 24, 2012
Miranda Jade Turbin, the well-known 23-year-old celiac advocate who now helps run the internationally-recognized http://www.GlutenFreeHelp.info, recently flew across the country from her Los Angeles home and test kitchen to New York, where the young advocate deepened her already-impressive knowledge of gluten-free cooking at two of the finest culinary schools in the U.S., the Culinary Institute of America in Hyde Park and the Institute of Culinary Education in the heart of New York City.
"It's really important to me to continue to study and improve myself in the arena of gluten-free baking," said Miranda Jade, who is celebrated for her gluten-free recipes on GlutenFreeHelp.info. "That way, I can continue to offer the gluten-free community recipe ideas and healthy cooking and baking advice that my visitors will really value."
Miranda Jade Turbin was finally diagnosed with celiac disease and dermatitis herpetiformis (DH), also known as the "gluten rash," as a young adult after an entire childhood of misdiagnoses. After switching to a gluten-free diet and experiencing the relief of all her symptoms, Miranda Jade became passionate about helping other celiacs and gluten-sensitive people and started managing the website to even more success. She teamed up with her mother and celebrated children's author, celiac Tina Turbin, to run Turbin's award-winning gluten-free resource website, http://www.GlutenFreeHelp.info, voted the #2 .info website in the world out of over 6.5 million registered .info sites. At just 23 years old, Miranda Jade was announced the official partner of the site in January 2012.
Established more than six decades ago, the Culinary Institute of America has been regarded as one of the finest professional culinary schools. Miranda Jade visited the Hyde Park, New York campus, where she took Chef Richard Coppedge's gluten-free baking class, which is only offered once a year.
"The class was wonderful," said Miranda Jade, who was the student who had traveled the farthest for the occasion, "Chef Coppedge really takes to heart making gluten-free baked goods. He is a master. I was honored to not only work with him but to getting some questions addressed. "
According to its website, the Institute of Culinary Education (ICE®) is "New York City's largest and most active center for culinary education." Miranda Jade took their Truffles, Truffles, Truffles class, where she learned everything there is to know about truffles and how to prepare them. The young celiac advocate said she can't wait to share her truffle-making secrets with her GlutenFreeHelp.info blog readers.
Miranda Jade, who is an avid writer of articles, blogs, reviews, and even eBooks on the subject of gluten-free living, "My favorite past time is spending time in the kitchen coming up with gluten-free and also grain-free creations. It was entirely worth traveling all the way to New York to deepen my knowledge in this area." The gluten-free community can stay inspired in the kitchen by visiting the cutting-edge celiac advocate's website, GlutenFreeHelp.info, for her continually updated gluten-free recipes and cooking ideas.
# # #
TO BOOK MIRANDA JADE TURBIN FOR AN INTERVIEW OR SPEAKING ENGAGEMENT: Contact media(at)glutenfreehelp(dot)info.
TO LEARN MORE ABOUT MIRANDA JADE TURBIN, VISIT: http://glutenfreehelp.info/about-tina-turbin/
TO PURCHASE ANY OF THE GLUTEN-FREE EBOOKS VISIT: http://glutenfreehelp.info/gluten-free-and-celiac-ebooks-available-here/
ABOUT MIRANDA JADE TURBIN, OFFICIAL PARTNER OF GLUTENFREEHELP.INFO: Miranda Jade Turbin was finally diagnosed with celiac disease after 18 years--her entire childhood--of repeated misdiagnoses, going from one doctor to the next and in and out of hospitals without any answers. Within two weeks of removing all gluten from her diet, Miranda Jade's life completely turned around. After her experience, she knew in her heart she had to help others as an advocate for celiac disease and gluten sensitivity. Miranda Jade teamed up with her mother Tina Turbin, also a diagnosed celiac and founder of the award-winning website GlutenFreeHelp.info, to this day handling all communications for this very busy website. Miranda Jade has gone on to write numerous eBooks, articles, reviews, and sought-after gluten-free grain-free recipes. Miranda Jade is bicoastal with gluten-free test kitchens on both coasts.
# # #
For more information or to schedule an interview, please call Rosie Newman 888-701-6481 or media(at)glutenfreehelp(dot)info