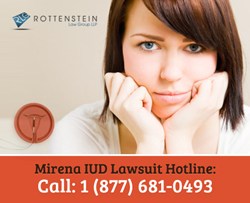 New York, NY (PRWEB) November 28, 2012
The Rottenstein Law Group established a special hotline last week for women who think they may be entitled to compensation for injuries allegedly caused by a Mirena IUD birth control device. The availability of that hotline increased the already-high number of women contacting the firm to discuss the possibility of recovering compensation for injuries allegedly sustained as a result of the Mirena IUD perforating their uteruses, migrating outside of their uteruses, or causing them to develop infections. Accordingly, RLG has already gotten to work creating another resource for women who allege they've been harmed by the Mirena IUD: a website that will provide comprehensive information on Mirena IUD side effects and lawsuits, and will explain exactly how women who believe they've been hurt by a Mirena IUD should go about obtaining recovery for their injuries.
In the meantime, women who have questions about Mirena IUD injuries should visit RLG's Mirena IUD Lawsuit Information Center at http://www.rotlaw.com/mirena-iud-legal-information-center/, or call the Rottenstein Law Group's Mirena IUD hotline at (877) 681-0493 so the firm's attorneys can review her case. The consultation will be free and confidential.
About THE ROTTENSTEIN LAW GROUP
The Rottenstein Law Group is a New York-based law firm that represents clients nationwide in mass tort actions. The firm's founder, Rochelle Rottenstein, has more than two decades of experience as a lawyer, and compassionately represents clients in consumer product injury, mass tort, and class action lawsuits.
Contact:
The Rottenstein Law Group, LLP
Rochelle Rottenstein, Esq.
321 W. 44th Street
Suite 804
New York NY 10036
(212) 933-9500 (office phone)
(212) 933-9980 (facsimile)
rochelle(at)rotlaw(dot)com
http://www.rotlaw.com
###