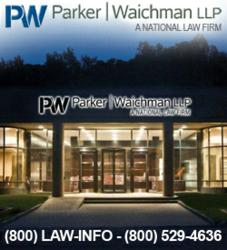 New York, NY (PRWEB) April 30, 2013
Parker Waichman LLP, a national law firm dedicated to protecting the rights of victims injured by defective medical devices, has filed a lawsuit on behalf of a woman who suffered a number of injuries allegedly caused by the Mirena IUD. The suit was filed on March 15th in the Superior Court of New Jersey Law Division, Morris County (Civil Action No. L733-13). Bayer Healthcare Pharmaceuticals, Inc. has been named as Defendant.
According to the Complaint, the Plaintiff received the Mirena IUD in November 2009. Initially, there was little evidence to suggest that the device had perforated her uterus. On May 2, 2011, however, her physician was unable to remove the contraceptive device from her uterus. The Plaintiff was scheduled for a diagnostic hysteroscopy and removal of the IUD. On May 13, 2011 she underwent surgery to have the Mirena IUD removed; it was found embedded in her uterine cavity, however. The Plaintiff alleges in her lawsuit that the injuries and damages she sustained were a direct result of the Mirena IUD. Allegedly, the Defendant is to blame for its negligent and wrongful actions in misrepresenting the safety profile of the device. The Plaintiff is suing for severe and permanent physical injuries, substantial pain and suffering, economic loss due to medical care and treatment, and lost earnings. She is also seeking punitive damages.
A federal Mirena IUD multidistrict litigation (MDL) was recently established. The coordinated litigation centralizes federal Mirena lawsuits with common questions of fact to the Southern District of New York as part of In Re: Mirena IUD Products Liability Litigation, MDL No. 2434.
Bayer's Mirena IUD is designed to prevent pregnancy for up to five years. It is a small, plastic device that is attached to two strings. Once placed inside the uterus by a healthcare professional, it releases the hormone levonorgestrel. According to the U.S. Food and Drug Administration (FDA), the most serious side effects associated with the Mirena IUD include:

Perforation of the uterine wall
Embedment of the device in the uterine wall
Intrauterine pregnancy
Ectopic pregnancy
Group A streptococcal sepsis
Pelvic inflammatory disease (PID)
Matthew J. McCauley, Senior Litigation Counsel at Parker Waichman LLP, co-chairs the American Association for Justice (AAJ) Mirena IUD Litigation Group. The Group is actively involved in exchanging educational materials and medical literature in order to best represent victims.
Parker Waichman LLP continues to offer free lawsuit consultations to victims of Mirena IUD birth control. If you or a loved one experienced complications following the use of this device, please visit the firm's Mirena® IUD Side Effects page at yourlawyer.com. Free case evaluations are also available by calling 1 800 LAW INFO (1-800-529-4636).
Contact:
Parker Waichman LLP
Gary P. Falkowitz, Managing Attorney
(800) LAW-INFO
(800) 529-4636
http://www.yourlawyer.com