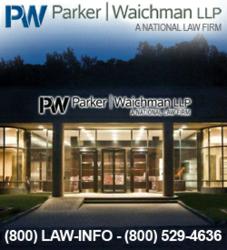 New York, New York (PRWEB) May 13, 2013
Parker Waichman LLP, a national law firm dedicated to protecting the rights of victims injured by defective drugs and medical devices, has filed a lawsuit on behalf of a woman who alleges that she was injured by using Bayer's Mirena IUD contraceptive. The suit was filed on April 12, 2013 in the Morris County Civil Division (Civil Action No.L1006-13). Bayer Healthcare Pharmaceuticals was named as the Defendants.
According to the Complaint, the Plaintiff was implanted with the Mirena IUD in October 2009. In April 2010, she went to her doctor's office complaining of pain. Her physician was unable to see the strings, and could not find the IUD using ultrasound. An x-ray showed that her Mirena IUD was within the abdominal cavity located outside the uterus. The Plaintiff underwent laparoscopic surgery to remove the Mirena IUD in May 2010. She is suing for severe and permanent physical injuries, substantial pain and suffering and economic loss due to medical expenses and lost wages. The lawsuit alleges that Bayer knew that Mirena was defective and failed to warn about the risks.
The lawsuit alleges that Bayer has a history of misrepresenting Mirena. In 2009, the company was contacted by the Department of Health and Human Services' Division of Drug Marketing, Advertising, and Communications (DDMAC) for making unsubstantiated claims about the device while failing to mention its risks in the company's "Simple Style" program.
A federal Mirena IUD multidistrict litigation (MDL) was recently established in the Southern District of New York. The MDL, which centralized Mirena lawsuits with common questions of fact in federal court, is entitled In Re: Mirena IUD Products Liability Litigation, MDL No. 2434.
Bayer's Mirena IUD is designed to prevent pregnancy for up to five years. It is a small, plastic device that is attached to two strings. Once placed inside the uterus by a healthcare professional, it releases the hormone levonorgestrel. According to the U.S. Food and Drug Administration (FDA), the most serious side effects associated with the Mirena IUD include:

Perforation of the uterine wall
Embedment of the device in the uterine wall
Intrauterine pregnancy
Ectopic pregnancy
Group A streptococcal sepsis
Pelvic inflammatory disease (PID)
(http://www.fda.gov/downloads/Drugs/GuidanceComplianceRegulatoryInformation/EnforcementActivitiesbyFDA/WarningLettersandNoticeofViolationLetterstoPharmaceuticalCompanies/UCM197229.pdf)
Matthew J. McCauley, Senior Litigation Counsel at Parker Waichman LLP, co-chairs the American Association for Justice (AAJ) Mirena IUD Litigation Group. The Group is actively involved in exchanging educational materials and medical literature in order to best represent victims.
Parker Waichman LLP continues to offer free lawsuit consultations to victims of Mirena IUD birth control. If you or a loved one experienced complications following the use of this device, please visit the firm's Mirena® IUD Side Effects page at yourlawyer.com. Free case evaluations are also available by calling 1 800 LAW INFO (1-800-529-4636).
Contact:
Parker Waichman LLP
Gary P. Falkowitz, Managing Attorney
(800) LAW-INFO
(800) 529-4636
http://www.yourlawyer.com