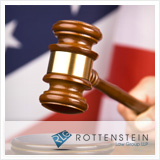 These reports could be valuable evidence for Mirena plaintiffs during trials.
(PRWEB) May 09, 2013
The Mirena IUD lawyers at the Rottenstein Law Group are troubled by recent news reported in AdverseEvents that the U.S. Food and Drug Administration has to date received more than 47,000 adverse event reports about Mirena side effects for the Bayer-manufactured hormonal contraceptive device.*
The most common side effects reported to the FDA include the expulsion of the device and the device dislocation (migration), according to a recent AdverseEvents Report. This is supported by a 2008 FDA report that mentions those alleged side effects, in addition to perforation of the uterine wall and pelvic inflammatory disease as primary potential issues.**
"We file Mirena lawsuits daily for those who believe their intrauterine devices have harmed them," said Rochelle Rottenstein, principal of the Rottenstein Law Group. "These reports could be valuable evidence for Mirena plaintiffs during trials."
Women across the United States have filed lawsuits that have been consolidated at the federal level (In re: Mirena IUD Products Liability Litigation, MDL No. 2434, U.S. District Court for the Southern District of New York) and in at least one state (In re: Application for Centralized Management of Certain Cases Involving Mirena, Morris County (N.J.) Superior Court) there has also been a consolidation.
The Mirena IUD is a plastic contraceptive device that slowly releases a type of the hormone progestogen over the course of five years. It was first introduced in 2000 and is manufactured by Bayer.
The Rottenstein Law Group encourages those with the Mirena IUD to visit its website to read more information about the complaints the FDA has received about the Mirena IUD's side effects and to learn more about Mirena lawsuits.
*adverseevents.com/drugdetail.php?AEDrugID=3893&BrandName=MIRENA
**http://www.fda.gov/Safety/MedWatch/SafetyInformation/Safety-RelatedDrugLabelingChanges/ucm119274.htm
For the latest news on defective medications and medical devices and related lawsuits, visit the Rottenstein Law Group's Injury Lawyer Newswire at http://www.injurylawyernewswire.com. Readers can subscribe to the news site's stories and videos to stay on top of personal injury news.
About THE ROTTENSTEIN LAW GROUP
The Rottenstein Law Group is a New York-based firm that represents clients nationwide in mass tort actions. The firm was founded by Rochelle Rottenstein, who has more than two decades of experience as a lawyer, to represent clients hurt by defective medical devices and medications. (Attorney advertising. Prior results do not guarantee a similar outcome.)
Contact:
The Rottenstein Law Group, LLP
Rochelle Rottenstein, Esq.
321 W. 44th Street
# 804
New York NY 10036
(212) 933-9500 (office phone)
(212) 933-9980 (facsimile)
rochelle (at) rotlaw (dot) com