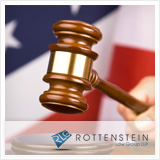 (PRWEB) May 24, 2013
The Mirena IUD lawyers at the Rottenstein Law Group are troubled by recent news that the FDA has received more than 59,229 complaints since 2004 from women claiming they suffered negative side effects from the intrauterine birth control device known as the Mirena IUD.*
Among the most common of the more complicated issues reported by the women "included 'expulsion,' where the IUD came out on its own. There are 12,047 reports of that occurring," according to an ABC News article. "Abdominal pain is also common, with 3,774 complaints. And uterine perforation … has 1,322 reports."
The article describes the plight of one mother of three who reports having experienced pain from the moment she got a Mirena IUD three years ago. After it perforated her uterus and floated into her abdomen, she had to have the Mirena IUD surgically removed.
The Rottenstein Law Group LLP encourages anyone who has had to have surgery to have a Mirena IUD removed, has had a Mirena IUD perforate their uterus, or has been otherwise injured by a Mirena IUD to visit the firm's website for more information about how to file a Mirena injury lawsuit and about Mirena settlements.
For the latest news on defective medications and medical devices and related lawsuits, visit the Rottenstein Law Group LLP's Injury Lawyer Newswire at injurylawyernewswire.com. Readers can subscribe to the news site's stories and videos to stay on top of personal injury news.
*abc15.com/dpp/news/national/mirena-birth-control-may-be-causing-complications-in-women#ixzz2U3dCeglh
About THE ROTTENSTEIN LAW GROUP LLP
The Rottenstein Law Group LLP is a New York-based firm that represents clients nationwide in mass tort actions. The firm was founded by Rochelle Rottenstein, who has more than two decades of experience as a lawyer, to represent clients hurt by defective medical devices and medications. (Attorney advertising. Prior results do not guarantee a similar outcome.)
Contact:
The Rottenstein Law Group LLP
Rochelle Rottenstein, Esq.
321 W. 44th Street
# 804
New York NY 10036
(212) 933-9500 (office phone)
(212) 933-9980 (facsimile)
rochelle (at) rotlaw (dot) com