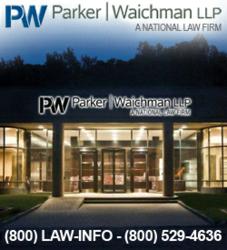 New York, NY (PRWEB) December 03, 2012
Parker Waichman LLP, a national law firm dedicated to protecting the rights of victims injured by defective drugs and medical devices, has filed a lawsuit alleging that Mirena IUD caused substantial injury in a Pennsylvania woman. The suit was filed on November 5th in the Superior Court of New Jersey Law Division, Morris County (Civil Action No. MRS-L-272412). Bayer Healthcare Pharmaceuticals have been named as Defendants.
Mirena intrauterine device, or IUD, is a type of birth control that is used to prevent pregnancy long-term. The small t-shaped plastic device attached to two strings is inserted into the uterus by a healthcare professional and remains there for up to five years. According to the lawsuit, Bayer has only warned that the Mirena has a risk of perforating the uterus during insertion. The allegations, however, suggest that the device may spontaneously migrate as well; the Plaintiff received the IUD in 2008 but did not experience pain until 2010. A CT scan performed in November 2010 showed that Mirena was no longer inside of her uterus. The Plaintiff underwent a subsequent laparoscopic surgery in order to remove Mirena.
The lawsuit is alleging a number of damages as a direct result of Mirena and the Defendants wrongful conduct and negligence, including severe and permanent injuries and pain and suffering. The suit is also suing for economic losses in the form of lost wages and the decreased ability to earn future wages.
The Department of Health and Human Services' Division of Drug Marketing, Advertising, and Communications (DDMAC) has reprimanded Bayer for deceptive marketing of Mirena. Until 2009, the company held live presentations as part of a so-called "Simple Style" program. The program targeted "busy moms" and, among other things, made claims that the device would help increase libido and "look and feel great". The DDMAC concluded that the program overstated the benefits of Mirena without alerting users to the side effects, which include weight gain, acne and breast tenderness.
Parker Waichman LLP continues to offer free lawsuit consultations to victims of Mirena IUD birth control. If you or a loved one experienced complications following the use of this device, please visit the firm's Mirena IUD Side Effects page. Free case evaluations are also available by calling 1 800 LAW INFO (1-800-529-4636).
Contact:
Parker Waichman LLP
Gary P. Falkowitz, Managing Attorney
(800) LAW-INFO
(800) 529-4636
http://www.yourlawyer.com