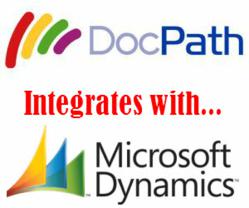 One of the main goals of the majority of Microsoft Dynamics AX users is to automatize and improve their document processes.
Suwanee, GA (PRWEB) April 16, 2013
DocPath, a leading document management software manufacturer, has recently announced that the latest enhancements applied to its offer of document management solutions include a flexible integration system especially designed for Microsoft Dynamics AX users. This system delivers simplicity by allowing both small or midsized companies and large organizations everything needed to easily complement Microsoft Dynamics AX with any of its document management solutions.
Document Management Benefits
But why would Microsoft Dynamics AX users want to integrate their ERP system with a document management software such as DocPath? Because adequate document management provides a wide range of tangible and intangible benefits. It is an eco-friendly solution that generates significant cost reductions as paper waste is drastically cut down; companies are enabled to produce high-quality and professional documents; the right document management software boosts productivity by automating document-related process, and it enables compliance with industry and government regulations and ISO standards as documents can be stored and shared in digital format.
Simple Integration with DocPath
DocPath, however, goes a step further in the integration process of its document management software, by offering Microsoft Dynamics AX users a "non-coding" approach. This means that companies will be able to extend the capacities of their ERP system with no need of programming. As such, DocPath enables users to continue working with Microsoft Dynamics AX while drastically increasing both performance and productivity of their document-based business processes.
"An increasing number of companies of any size, globally, are turning their efforts to enhancing overall performance of their business processes and reducing the related costs. In view of this trend, one of the main goals of the majority of Microsoft Dynamics AX users is to automatize and improve their document processes," says Julio Olivares, DocPath CEO and Founder. "Given this global trend, DocPath´s network of Certified Partners, which includes prestigious companies such as TheFormsAgency in Australia, will play a key role in sustaining and expanding DocPath´s presence among the community of Microsoft Dynamics AX users."
DocPath's Main Advantages
With DocPath document management software, Microsoft Dynamics AX users will be able to get the most out of their ERP system by:

Easily converting Microsoft Dynamics AX output data into professional and high-quality documents.
Boosting user productivity with integrated, visual, easy to use and multi-language interfaces based on drag&drop.
Applying a wide variety of processes to the data, such as sorting criteria, calculations for invoice totals, retrieving data from a database to be used in the final document, etc.
Benefiting from a powerful, robust and multi-platform production engine, which can be installed on Windows, Unix, IBM i and zSeries systems.
Generating multiple output formats, such as PDF, PostScript, matrix and label printer output, etc.
Printing documents at local or remote printers, distributing files via email or fax, storing them in a database or even publishing the documents online on internal or public networks.
In other words, companies operating with Microsoft Dynamics AX-based processes will greatly benefit from all the advantages that DocPath's document management software has to offer, without suffering the difficulties of a complicated integration process.
About DocPath
DocPath is a leading document technology software manufacturer. Founded in 1992, its headquarters is located in Madrid, Spain, with two other design and development offices. DocPath solutions are found in companies all over the world. Among its international clients are prestigious banks and first-class corporations, which are aided by DocPath solutions by simplifying the complicated and critical tasks involving design and the distribution of documents. DocPath maintains a strong commitment to R&D&i, an area that receives a good amount of its revenue, and in which lies the key to the company´s success.
For more information, visit http://www.docpath.com.
DocPath is a registered trademark of DocPath Corp. All rights reserved. Other trademarks may be the property of their respective owners..