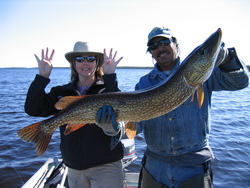 Fisherman don't need a complicated vacation.
Warman, Saskatchewan (PRWEB) February 26, 2008
Misaw Lake Lodge announced today the completion of its 4,100 ft airstrip, which was carved out of the bush some 1,000 miles north of the U.S border at Saskatchewan's most remote fishing lodge. When asked why this would be important to guests, Michael Silvernagle, president of Misaw Lake Lodge, stated that it was a must: "Fisherman don't need a complicated vacation." Silvernagle added, "A direct flight to trophy fishing waters is what sets us apart from the rest."
Misaw Lake Lodge is celebrating its 10 year anniversary this year. What was once a small trapper's cabin has turned into an all inclusive trophy fishing vacation for avid anglers across the United States and Europe. Misaw's small guest capacity of only 16 and unprecedented Trophy fishery is what entices even the most seasoned fisherman. Silvernagle states that he is seeing more and more couples coming up as fishing vacations are becoming more popular. Silvernagle added, "It is great to see husbands bringing their wives and parents bringing there children to Misaw; we promise a fantastic trip."
Misaw Lake Lodge is quickly becoming the "go-to" destination for serious anglers in search of trophy pike, lake trout and arctic grayling. Misaw owns exclusive rights to 16 lakes and is situated in a very special wilderness management zone which protects it from commercial fishing and logging, and 125 miles from the nearest road.
For more information on Misaw Lake Lodge visit http://www.misaw.com or call 306-290-7263
# # #