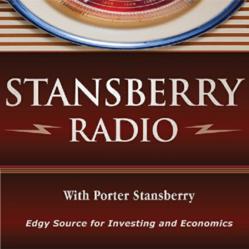 "Things Don't Look That Pretty for the US Dollar if we Keep on the Same Path"- Mike "Mish" Shedlock
Baltimore, MD (PRWEB) February 12, 2013
Stansberry Radio with Porter Stansberry, part of the Stansberry Radio Network, hosted top financial blogger, Mike "Mish" Shedlock last week in its 59th episode. During the interview, the two spent a majority of the discussion focused on the US economy and how decisions being made in Washington could be catastrophic for the US dollar to remain the global reserve currency. In the interview, Stansberry stated, "The amount of economic ignorance in Washington is truly at an epic high…it's a shame because the world reserve currency allows us to have enormous economic power and economic currency flexibility and people don't understand that once you lose it, you're not going to get it back. I sure hope we can start making some better decisions…." You can listen to the entire interview here.
Both Stansberry and Shedlock agreed that was probably not going to happen, with Shedlock stating "That is the sad thing- but it's not just the US that's doing that" … "when and where and how does it end, unfortunately, I think this is going to go on a lot longer than most people believe." When speaking about hyperinflation Shedlock stated, " I don't think we're going to see it in 2014 or 2015 or 2016 – I think we're going to see a currency crisis first in Japan." He also went on to say "I think we're going to see a currency crisis in Europe as a result of a breakup in the Eurozone sometime first – after that, things don't look that pretty for the US dollar if we keep on the same path –I don't have a lot of hope…"
Shedlock writes a global economics blog which typically has commentary every day of the week. He is also a contributing "professor" on Minyanville, a community site focused on economic and financial education. Read more at http://globaleconomicanalysis.blogspot.com/2008/06/about-mike-mish-shedlock.html#kcG8l6lbOVugutWr.99
The Stansberry Radio Network is becoming a required stop for financial experts, economists, politicians and the media. The show has been host to a wide variety of prominent names, including Lauren Lyster, Jeff Macke and Dinesh D'Souza, who created the hit documentary 2016: Obama's America. Other guests have included Libertarian Presidential nominee Gary Johnson, MSNBC host Chris Hayes, former U.S. Senator Byron Dorgan, publisher Steve Forbes, and renowned investors Jim Rogers and Marc Faber.
Stansberry Radio Network segments can be accessed at http://www.stansberryradio.com.
Stansberry Radio with Porter Stansberry is a top three investing podcast on iTunes, having more than 80,000 downloads and listens per month. New episodes release every Thursday afternoon.