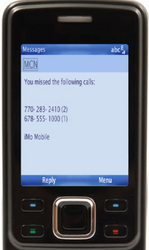 We have a long established business relationship with Movius, which has always shown great commitment towards helping us give our own customers the very best mobile experience possible
Atlanta, GA (Vocus) September 29, 2010
Movius Interactive Corporation, a global leader in value added communication services, today announced that Iraq's leading mobile operator, Asiacell, has chosen it to provide missed call services for its eight million customers across the country.
Movius will provide Missed Call Notification – which tells a subscriber if they have missed a call due to their phone being either out of coverage area or switched off – and also Call Back Now – which alerts a caller whose attempt to ring someone has failed that the subscriber is now available to receive a call from them.
"We have a long established business relationship with Movius, which has always shown great commitment towards helping us give our own customers the very best mobile experience possible," said Jamal Omer, Products & Service Manager at Asiacell.
"These new services will improve that experience and at the same time will allow us to increase revenues and improve customer loyalty still further. Our Movius Versera ICE platform also gives us the scope to introduce further revenue generating applications as we move forward."
These new notification services are ideal for scenarios where subscribers regularly power off to save battery life or, in the case of prepay customers, to control usage due to low balances. Additionally it provides a solution for areas where there are regular gaps in network coverage or where voicemail usage is low due to cultural or personal preferences.
"Our new applications for Asiacell are an excellent example of our ability to innovate and create new revenue streams for our customers. They also demonstrate why we are seen as a leader in the region for VAS," said Farid Hilal, Regional Vice President of Sales for Movius.
Asiacell was the first mobile telecommunications company in Iraq when it was established in the city of Suleimaniah in 1999. It has continued to grow and now has nearly 3,000 staff and around eight million subscribers.
About Movius
Movius Interactive Corporation is a recognized leader in Value Added Services (VAS) for telecommunication providers around the world. Our solutions for converged messaging, unified communications, virtual telephony and notification services enable carriers in established and emerging markets to increase ARPU and market share. By continually innovating new communication services, Movius transforms the way the world interacts with information, media and each other.
# # #