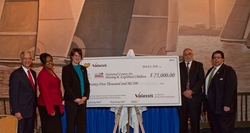 I am proud that our employees continue to step forward to make a difference in the lives of missing children and searching families. This long-standing partnership has made a difference is the lives of so many children and their families.
Livonia, Mich. (Vocus) March 9, 2010
Valassis (NYSE: VCI), one of the nation's leading media and marketing services companies, announced today that through a variety of employee-led fund raisers last year, Valassis employees met their 2009 fund raising goal of $75,000 for the National Center for Missing & Exploited Children® (NCMEC). As the company marks its 25th anniversary of reuniting children with their families in partnership with NCMEC and the United States Postal Service (USPS), Valassis will continue to support this admirable cause throughout the company through fund raisers and its commitment to feature the faces of missing children across its RedPlum portfolio.
Building upon the momentum of fund-raising efforts in 2009, NCMEC will again be Valassis' corporate charity. Valassis employees have pledged for a second consecutive year to raise $75,000 for NCMEC in 2010 during the program's 25th anniversary year.
"Our program has fundamentally changed the way America searches for its missing children," said Vince Giuliano, Valassis Senior Vice President, Government Relations. "I am proud that our employees continue to step forward to make a difference in the lives of missing children and searching families. This long-standing partnership has made a difference in the lives of so many children and their families."
It was in 1985 that the first Have You Seen Me?® photo appeared on the company's products. Since that time, Valassis has expanded the reach of the program to the RedPlum Shared Mail Wrap, RedPlum Free-standing Insert (FSI) and online at redplum.com and valassis.com. This program has become the most successful photo program of its kind. Of the more than 2,000 children featured through the program, 1,100 have been recovered through photo distribution programs like this and other efforts.
"Our relationship with Valassis is a perfect example of the kind of public private partnership that can have a lasting impact and what we do would not be possible without partners like them," said Ernie Allen, NCMEC President and CEO. "We are grateful for their continued support and we look forward to many more years of working together to help give children safer lives."
NCMEC's mission is to help prevent child abduction and sexual exploitation; help find missing children; and assist victims of child abduction and sexual exploitation, their families and the professionals who serve them. To date, more than 148,400 children have been found as a result of NCMEC and its partners' efforts. To learn more about NCMEC and its ongoing efforts, go to http://www.missingkids.com .
About Valassis
Valassis is one of the nation's leading media and marketing services companies, offering unparalleled reach and scale to more than 15,000 advertisers. Its RedPlum media portfolio delivers value on a weekly basis to over 100 million shoppers across a multi-media platform -- in-home, in-store and in-motion. Through its interactive offering -- redplum.com -- consumers will find compelling national and local deals online. Headquartered in Livonia, Michigan with approximately 7,000 associates in 28 states and eight countries, Valassis is widely recognized for its associate and corporate citizenship programs, including its America's Looking for Its Missing Children® program. Valassis companies include Valassis Direct Mail, Inc., Valassis Canada, Promotion Watch, Valassis Relationship Marketing Systems, LLC and NCH Marketing Services, Inc. For more information, visit http://www.valassis.com or http://www.redplum.com . To learn about advertising opportunities with RedPlum, please call 1-800-437-0479.
About the National Center for Missing & Exploited Children
The National Center for Missing & Exploited Children is a 501(c)(3) nonprofit organization. Since it was established by Congress in 1984, the organization has operated the toll-free 24-hour national missing children's hotline which has handled more than 2,447,000 calls. It has assisted law enforcement in the recovery of more than 148,400 children. The organization's CyberTipline has handled more than 804,200 reports of child sexual exploitation and its Child Victim Identification Program has reviewed and analyzed more than 31,490,700 pornography images and videos. The organization works in cooperation with the U.S. Department of Justice's office of Juvenile Justice and Delinquency Prevention. To learn more about NCMEC, call its toll-free, 24-hour hotline at 1-800-THE-LOST or visit its web site at http://www.missingkids.com .
Valassis Safe Harbor and Forward-Looking Statements
Certain statements found in this document constitute "forward-looking statements" within the meaning of the Private Securities Litigation Reform Act of 1995. Such forward-looking statements involve known and unknown risks and uncertainties and other factors which may cause our actual results, performance or achievements to be materially different from any future results, performance or achievements expressed or implied by such forward-looking statements. Such factors include, among others, the following: price competition from our existing competitors; new competitors in any of our businesses; a shift in client preference for different promotional materials, strategies or coupon delivery methods, including, without limitation, as a result of declines in newspaper circulation; an unforeseen increase in paper or postal costs; changes which affect the businesses of our clients and lead to reduced sales promotion spending, including, without limitation, a decrease of marketing budgets which are generally discretionary in nature and easier to reduce in the short-term than other expenses; our substantial indebtedness, and ability to refinance such indebtedness, if necessary, and our ability to incur additional indebtedness, may affect our financial health; the financial condition, including bankruptcies, of our clients, suppliers, senior secured credit facility lenders or other counterparties; our ability to comply with or obtain modifications or waivers of the financial covenants contained in our debt documents; certain covenants in our debt documents could adversely restrict our financial and operating flexibility; ongoing disruptions in the credit markets that make it difficult for companies to secure financing; fluctuations in the amount, timing, pages, weight and kinds of advertising pieces from period to period, due to a change in our clients' promotional needs, inventories and other factors; our failure to attract and retain qualified personnel may affect our business and results of operations; a rise in interest rates could increase our borrowing costs; we may be required to recognize additional impairment charges against goodwill and intangible assets in the future; court approval of the settlement agreement among the parties to the pending ADVO securities class action lawsuit; possible governmental regulation or litigation affecting aspects of our business; the credit and liquidity crisis in the financial markets could continue to affect our results of operations and financial condition; reductions of our credit ratings may have an adverse impact on our business; counterparties to our secured credit facility and interest rate swaps may not be able to fulfill their obligations due to disruptions in the global credit markets; uncertainty in the application and interpretation of applicable state sales tax laws may expose us to additional sales tax liability; and general economic conditions, whether nationally, internationally, or in the market areas in which we conduct our business, including the adverse impact of the ongoing economic downturn on the marketing expenditures and activities of our clients and prospective clients as well as our vendors, with whom we rely on to provide us with quality materials at the right prices and in a timely manner. These and other risks and uncertainties related to our business are described in greater detail in our filings with the United States Securities and Exchange Commission, including our reports on Forms 10-K and 10-Q and the foregoing information should be read in conjunction with these filings. We disclaim any intention or obligation to update or revise any forward-looking statements, whether as a result of new information, future events or otherwise.
Media Contact:
Mary Broaddus
Director, Investor Relations and Corporate Communications
734-591-7375
broaddusm(at)valassis(dot)com
###