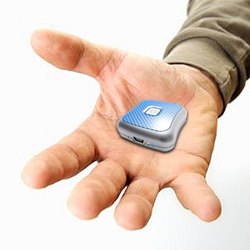 We've managed to become one of the nation's top sellers of GPS tracking products
New York, NY (Vocus) October 13, 2009
BrickHouse Security, a leading provider of safety and security products to major law enforcement agencies including the NYPD, FBI, and the LA County Sheriffs, is expanding its consumer product line with the addition of the Amber Alert GPS (AAGPS).
"We've managed to become one of the nation's top sellers of GPS tracking products," said Todd Morris, BrickHouse CEO, "but until today we haven't offered such an easy-to-use yet powerful product to parents." While the company has sold thousands of GPS tracking devices to more than 500 federal agencies and Fortune 500 clients, its consumer-focused GPS product line has been limited. "The Amber Alert GPS helps us give families a new and easy way to ensure their children are safe and accounted for when they're away from home," added Mr. Morris.
The AAGPS complements the company's BrickHouse Child Locator product that was recently featured in Duracell ads. In contrast to the Locator, which uses GPS technology to alert parents when their child wanders beyond a set distance of up to 600 feet, the AAGPS device enables parents to remotely locate their children when they are away. To use it, parents simply place the device into their child's personal items such as pockets and backpacks, or they can attach it to a wrist, ankle, or belt. To then locate their child they call or text the AAGPS device, and within seconds receive in return a detailed map and address of the child's exact location via any text- or web-enabled phone. Alternatively, they can view location updates on their computer.
With more than 2,000 children reported missing on average every day, the Amber Alert GPS is not dependent upon the parent to keep a child safe. Measuring just over an inch across, the stylish device is intentionally designed to not look like a tracking tool should an abductor see it; more important, the AAGPS features an alert "SOS" button that the child can activate to send an emergency signal to his or her parent. For further protection the GPS device can send speed alerts when the child or teen's vehicle exceeds a preset level, as well as breadcrumbing to leave a retrievable trail of the child's travels.
The device was developed by Russell Thornton, who experienced the terror of losing a child in an amusement park. Fortunately, he found his child after an extended search--and the determination to help other parents and children. He chose the name "Amber Alert" in reference to Amber Hagerman, a nine-year-old Texas girl who was abducted and murdered. The search for Amber led to the eventual establishment of a notification service for missing children. The AAGPS is not part of the system, but is instead intended to safeguard against situations reaching an alert stage while providing parents with peace of mind in knowing where to find their children.
"We hear stories every day of parents being separated from their children, whether intentionally or accidentally. Said Mr. Morris, "BrickHouse Security is thrilled to be able to offer introduce this new and effective way of preventing abductions and protecting their children."
The Amber Alert GPS retails for $379 and requires a monthly subscription plan. For the next 30 days BrickHouse Security will be offering Amber Alert GPS for a special introductory price of $279.95. For more information on the Amber Alert GPS, please visit http://www.brickhousesecurity.com/amber-alert-gps.html .
About BrickHouse Security
BrickHouse Security provides security and surveillance products to consumers, businesses of all sizes including roughly half of the Fortune 500, and more than 500 local and national government agencies such as the NYPD, LA County Sheriffs, and the FBI. To help its customers protect what they care most about, the company offers a range of leading-edge safety, protection, GPS tracking and counter-surveillance products. BrickHouse Security's industry-leading experts seek to be the go-to source for all of its audiences' needs by providing timely information through the company's informative blogs and content, and by identifying, developing, and selling quality products that represent the best and the latest in safety and security. The company is headquartered in New York City and serves a diverse US and international client base.
Media Contact
Jason Lazarus
Director of Marketing
BrickHouse Security
646-253-9131
###